PM in Iran for talks with Iranian leadership on bilateral ties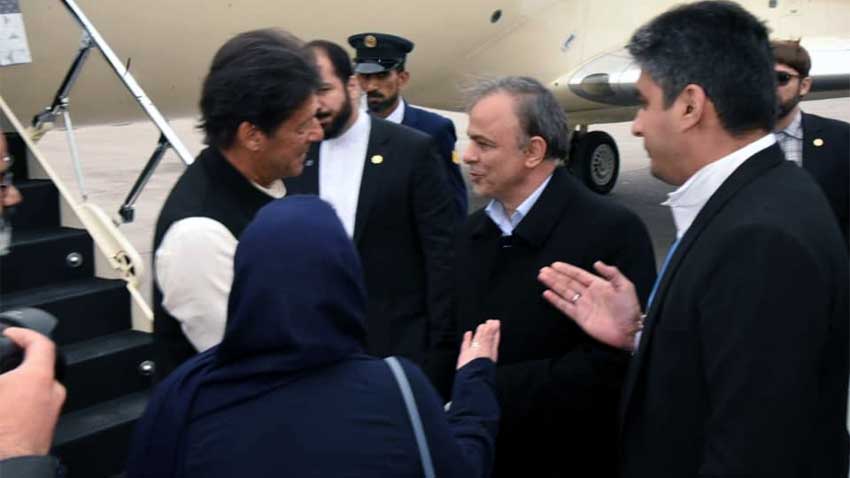 Prime Minister Imran Khan has arrived at Mashhad for a brief stop-over before proceeding to Tehran on a two-day official visit to Iran on the invitation of Iranian President Hassan Rouhani.
This is the first visit of Prime Minister Imran Khan to Iran.
Governor General Khorasan e Razavi province Ali Reza Razm Hussaini received the Prime Minister upon arrival at Shaheed Hashminejad airport Mashhad. On the occasion they also exchanged views on matters of mutual interest.
Prime Minister Imran Khan visited the Mausoleum of Imam Raza at Mashhad and offered Fateha and paid respect.
He also prayed for the progress and prosperity of the people and the country.
During the visit, the Prime Minister will call on Iranian Supreme Leader Seyed Ali Khamenei and hold detailed consultations with President Hassan Rouhani.
Imran Khan will also meet members of the Iranian and Pakistani business community in Iran.
The Prime Minister is accompanied by Minister for Human Rights Dr. Shireen Mazari, Minister for Maritime Affairs Syed Ali Haider Zaidi, Adviser to Prime Miniser on Commerce Abdul Razak Dawood, Prime Minister's Special Assistant on Overseas Pakistanis Sayed Zulfiqar Abbas Bukhari, SAPM on National Health Services Dr. Zafarullah Mirza and SAPM on Petroleum Nadeem Baber.