Sri Lanka mourns! "April, 23" National Day of Mourning, as death toll jumps to 310!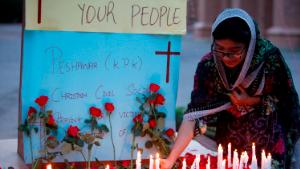 Two days on from the devastating attacks that targeted churches and tourist hotels in Sri Lanka's capital, Colombo, and two other cities in the island nation, its citizens are still coming to terms with the magnitude of the tragedy. At least 310 people have died, and hundreds more are injured.
Sri Lanka has declared a state of emergency, and Tuesday has been declared a national day of mourning.
The investigation: Some officials had been warned of a threat days before the attack. Authorities are investigating the attacks with assistance from global agencies like Interpol and the FBI.
On Tuesday, designated an official day of mourning, some of the dead were laid to rest, as the investigation into the widespread attacks continued.Local police tell that the Easter Sunday bombings have claimed the lives of 310 people. The number is a significant increase on the previously reported death toll. Police Media Spokesperson SP Ruwan Gunasekara had no further updates on the number of people injured. Previous estimates indicated at least 500 people were injured in the blasts across three churches and several high-end hotels.