"But what do you do when you are out of the loop?"PM Wickremesinghe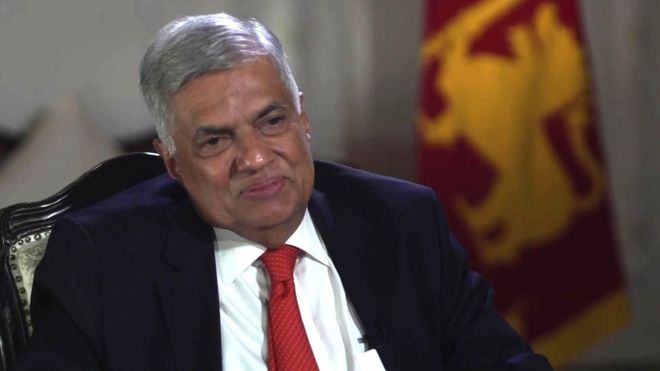 Ranil Wickremesinghe said that crucial information about any potential danger in the country was not passed to him.The subsequent attacks, which claimed at least 250 lives, exposed a massive intelligence failure by Sri Lanka.The country's police chief and top defence ministry official have both resigned over the bombings.But Mr Wickremesinghe argued the fact that he was unaware of the warnings meant he did not need to step down from his position.
"If we had any inkling, and we had not taken action, I would have handed in my resignation immediately," he said, adding: "But what do you do when you are out of the loop?"President Maithripala Sirisena earlier said that Sri Lankan intelligence services believed around 130 suspects linked to the Islamic State (IS) group were in the country and that police were hunting 70 who were still at large.
Police later discovered what they believed was the attackers' safe house in the eastern city of Sammanthurai. An "Islamic State banner [and] IS uniform similar to the video that was released by alleged suicide bombers" were found inside the building, a police spokesman told. About 150 sticks of dynamite and 100,000 ball bearings were also found during the raid.
There have also been reports of a shootout between security forces and a group of alleged suspects in a separate location.Sri Lankan authorities have blamed a local Islamist extremist group, National Tawheed Jamath, for the attacks, although IS has also said it was behind them.
Mr Sirisena also confirmed that the attackers' alleged ringleader, Zahran Hashim, a radical preacher, died at the Shangri-La hotel in the capital, Colombo.