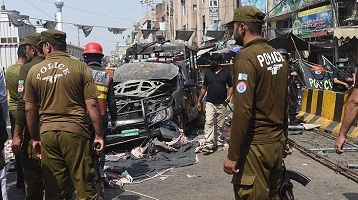 Ten people, including five police personnel, embraced martyrdom while thirty others injured in a blast outside Data Darbar in Lahore today (Wednesday). According to Police, injured persons have been shifted to Mayo Hospital.After the blast police cordoned off the area to ascertain nature of the blast.
President, PM strongly condemn blast, express grief over loss of precious lives. President Dr. Arif Alvi and Prime Minister Imran Khan have strongly condemned blast outside Data Darbar and expressed grief over the loss of precious lives.In a message, the President said that the perpetrators of such kind of inhumane act in the holy month of Ramzan are involved in deviation.
The Prime Minister Imran Khan has asked the Punjab government to provide all assistance to the injured and families of the victims.SAPM on Information reiterates Govt's commitment to eradicate terrorism from country.Special Assistant to the Prime Minister on Information Dr Firdous Ashiq Awan has reiterated the government's commitment to eradicate terrorism from the country.
Talking to PTV today, she said remnants of terrorists have tried to prove their existence by targeting innocent people at Data Darbar in Lahore today.The Special Assistant said the government will bring the perpetrators of the attack to justice and take the country to progress and prosperity.Firdous Ashiq Awan said anti-Pakistan forces have been conspiring to destabilise Pakistan, but they will not succeed in their nefarious designs.
Punjab Chief Minister Sardar Usman Buzdar has said that emergency has been imposed in all hospitals in wake of today's blast outside Data Darbar.Talking to newsmen in Lahore, he said that best possible medical care is being provided to the injured of the incident.He said financial assistance will be provided to families of the blasts victims.
Later, Punjab Chief Minister Sardar Usman Ahmad Khan Buzdar presided over a meeting in Lahore.The meeting was briefed about the suicide attack on the Elite Force personnel outside Data Darbar.The CCTV footage of the suicide bomber was screened in the meeting and a preliminary report of the incident was also presented in the meeting.
It was told in the report that the suicide bomber was identified with the help of CCTV cameras of the Safe City and the facilitators and accomplices are also being traced.The participants of the meeting were briefed that the Hizb-ul-Ahrar Group of banned outfit TTP has claimed the responsibility of the attack on social media.