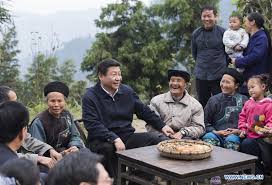 Nanchang: Next to dozens of brand-new, white houses in Huawu Village of eastern China's Jiangxi Province, several dark, dank hovels stand desolately.
"We kept these old ramshackle houses so that the young generation know it is important to cherish good days," said a villager.
According to the latest government figures, the average annual income per capita has risen from 2,230 yuan (329 U.S. dollars) to 11,300 yuan in the village. Local fruits and vegetables have become big industries, and red tourism and agricultural product processing are booming.
Huawu, or "village of people surnamed Hua" in English, is an epitome of the changes taking place in the city of Ruijin, a center of the early revolutionary activities of the Communist Party of China (CPC). In recent years, many once impoverished villagers have shaken off poverty as the anti-poverty campaign gains steam.
However, success did not come easy.Years ago, villagers in Huawu lived in mud shacks usually less than 20 square meters each. What villager Hua Chongqi called home was little more than a windowless room with simple, old household items: a stove, rickety wooden table and a few oily bowls as well as a big, blurred heirloom mirror propped against the moldy wall.
Hua has four sons, but he only had two and half such houses. After his sons were grown, they took turns going back home to celebrate the traditional Spring Festival in the ramshackle houses.
Beginning in 2013, local officials persuaded villagers to transform their houses with the help of government subsidies. Soon, locals would move into better homes and enjoy better lives.
In the past few years, more than 1 million yuan of funds were allocated to the village to power the development of irrigation projects, roads and the health industry.
Today, Huawu has a standard clinic, and villagers no longer need to go to nearby towns to see a doctor. Two dams and an irrigation project have been put into place, defying the problem of irrigation in the drought season. 
Meanwhile, 19 hectares of vegetable and fruit greenhouses have been built, and agricultural experts were invited to the village to provide professional training to local farmers.
"I used to make money by working construction in more developed cities, and I even spent the Spring Festivals there," said villager Hua Shuilin.
In 2015, he returned to Huawu and contracted some vegetable greenhouses to build a career of his own. That year, he rid himself of poverty completely."I was among the first batch of people to shake off poverty in the village," he said.
Last year, all villagers in Huawu rose above the poverty line.
While living better lives, villagers are beginning to develop rural family inns as "red tours" have expanded in the city, and visitors are taken to places in Ruijin where revolutionary figures once lived and worked.
"The environment here is really good, and the villagers here are quite friendly," said tourist Wei Xiaomeng from Beijing. "In Huawu, I can feel the Red Army spirit being passed on."
In villager Hua Pi's bungalow, rooms are complete with all modern facilities for guests.
"There are three separate rooms on the second and third floor," Hua said. "I can make more than 1,000 yuan a month from tourists during peak season."A tourism company is being considered to further bolster the tourism sector there.
"Our lives are sweeter than honey these days," said villager Hua Xiaoping.