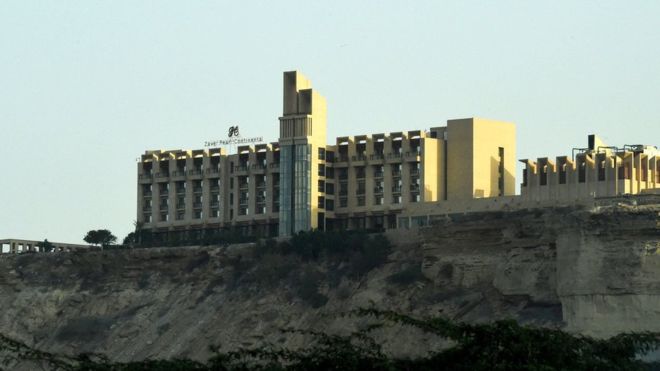 Three gunmen have stormed a five-star hotel in the restive Pakistani province of Baluchistan, killing at least one person, officials say.The attack targeted the Zaver Pearl-Continental Hotel in the strategic port city of Gwadar, the centrepiece of a multi-billion-dollar Chinese project.A hotel spokesman said there were no guests and few staff due to Ramadan.
The separatist Balochistan Liberation Army said it had carried out the attack to target Chinese and other investors.Militants in Balochistan oppose Chinese investment, saying it is of little benefit to local people. Security forces entered the hotel and took part in a gun battle with the militants.
Due to the holy month of Ramadan, the hotel had no guests and a very limited number of staff, a Zaver Pearl-Continental spokesperson told.The hotel sits on a hilltop overlooking the Gwadar port on the Arabian Sea, which is being developed by China as part of the China-Pakistan Economic Corridor (CPEC), a network of roads, railway and pipelines between the two countries.
The attack comes just weeks after gunmen killed 14 people, including 11 military personnel, in the region.
Gwadar is a city with a heavy military presence. It is viewed by both Chinese and Pakistani officials as the lynchpin of the CPEC, aiming to connect western China with the Arabian Sea.
After that attack, both Pakistani and Chinese officials stressed that violence would not derail their close co-operation. But militant activity in Balochistan remains one of the major concerns about the viability of the CPEC project.