Indian troops martyr two youth in Shopian, Occupied Kashmir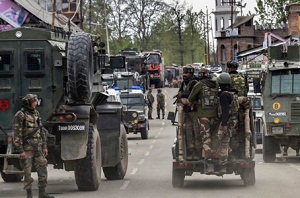 In occupied Kashmir, Indian troops in their fresh act of state terrorism martyred two youth in Shopian district, today.The youth were killed by the troops during a cordon and search operation in Satipora area of the district.The martyred youth were identified as Basharat Ahmad and Tariq Ahmad.
The killing triggered clashes between local youth and the forces' personnel in the area.The authorities snapped Internet services in the southern district. Troops also launched a search operation in Bijbehara area of Islamabad district.Senior APHC leader and the Tehreek-e-Hurriyat Jammu and Kashmir Chairman, Mohammad Ashraf Sehrai and other Hurriyat leaders in their separate statements paid tributes to the martyrs.
Mohammad Ashraf Sehrai said that India could not silence the voices of Kashmiris through use of brute force.
Meanwhile, as most parts of the world are observing Mother's Day, today, thousands of Kashmiri women continue to wait for the return of their sons subjected to disappearance in custody by Indian troops in the occupied territory over the past 30 years.
A report released by the Research Section of Kashmir Media Service on the occasion said that the unabated Indian state terrorism had resulted in the killing of 95,353 Kashmiris including women and children from 1989 to 11th of May 2019.As many as 22,901 women were widowed by the Indian forces and 11,120 women molested.
The report pointed out that the troops had subjected over 8,000 Kashmiris to custodial disappearance during the period, and the mothers of these disappeared people had been waiting for their return.On the other hand on the charge of holding anti-India protests during sham Indian parliamentary elections, Indian police arrested around two dozen youth during a raid on residential houses in Rathsuna area of Tral in Pulwama district.
The High Court of occupied Kashmir has ordered Crime Branch of police to probe a complaint of molestation submitted by a woman against police and public officers.