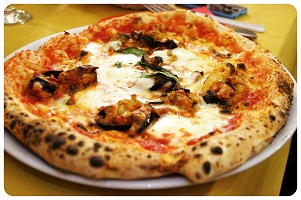 Rome: The newest addition to Pittsburgh's impressive Big Burrito Restaurant Group whisks one off to the Dolomite region in northern Italy.
Alta Via is a globally recognized walking trail through the Italian Dolomites, hence the name.
"The food is simple, clean, fresh and ingredient driven," says Big Burrito Group President and corporate Chef Bill Fuller.
Fuller says he "ruminated" on this restaurant concept for years.
The menu is inspired by both the California wine country and mountain towns of the Italian Alps, with entrees ranging from $13 to $52.
"This is our 19th restaurant," Fuller says. "We have a wood-fired grill and we cook a lot of the food on that and we make fresh pasta and have a nice vegetable focus. We make all of the pastas everyday by hand."
The menu is peppered with Italian words but don't fret, your informed server will assist as needed navigating the supper menu that features fresh seafood, steaks, chops, pastas and small plates of vegetables, antipasto and salads.
The hearth, fired up to about 800 degrees, is the heart of Alta Via, and hardwoods provide the meats and vegetables with a subtle smokiness and earthy warmth.
The culinary team, led by Executive Chef Ben Sloan, includes Sous Chefs Isaac Saunders and Darren Layre and a server team dedicated to providing exemplary service.
Bread boards served before dinner feature homemade Focaccia served with coarse salt and olive oil.
Look for lunch hours "sometime during the summer," Fuller says.
Alta Via regulars Patti and Frank Wiegand of O'Hara prefer to dine in the cozy and contemporary bar area on date nights. The bar features booths, bar and table top seating for around 40 and occupies the rear section, tucked away from the casually elegant main dining room that seats about 90.
"I love the tuna tartar, calamari and beef carpaccio," Patti Wiegand says. "The food is excellent."
The couple says they frequent many Big Burrito eateries and are happy to now have an Italian option in their neighborhood.
"This is a refreshing addition to the Big Burrito group. It's upscale and the pastas are excellent," Frank Wiegand says.
Fuller says business has been robust since Alta Via opened April 1st.
"I want patrons to feel comfortable, relaxed, pleased and fulfilled here," Fuller says.
Allow time for a leisurely supper, you won't be ready to say "arrivederci" too quickly.