NAB can't stop Bilawal's caravan: Palwasha Khan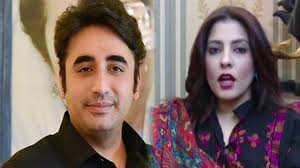 Islamabad: Deputy Secretary Information Pakistan People's Party (PPP) Palwasha Khan has said that the government of Prime Minister Imran Khan will not survive and Imran Khan should realize that Chairman Bilawal Bhutto Zardari cannot be stopped from winning the peoples' hearts now.
In a statement, Palwasha Khan said that anti-democratic forces have been engaged in vilification campaign against President Asif Ali Zardari but have always failed to make him bow down.
"No dictator could defeat the resolve of PPP and Asif Ali Zardari to fight for the rights of the people and this government will also fail miserably in tarnishing PPP's reputation," she said.
The PPP leader said that people are being crushed under the weight of price hike and instead of addressing the real issues; the government is using NAB to victimize Asif Ali Zardari and PPP.
The NAB has become a tool of the government to deviate peoples' attention from increase in prices of daily use items. The caravan of Chairman Bilawal has started its journey and neither the government nor the NAB will be able to stop it, she concluded.