Australia elects Morrison again! 'miracle' win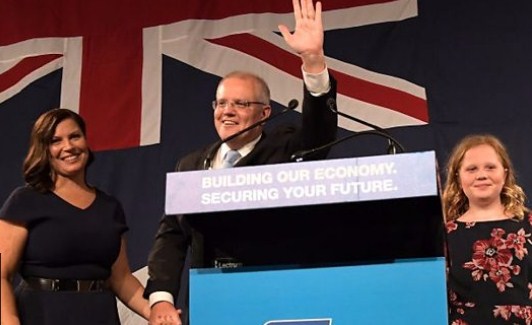 Australian Prime Minister Scott Morrison has thanked voters for re-electing his conservative coalition in a shock result at the federal polls.He told supporters he had "always believed in miracles" as partial results showed the Liberal-National Coalition close to a majority.Opposition Labor Party leader Bill Shorten has announced he is resigning after accepting defeat.
Exit polls had suggested a narrow Labor win for the first time in six years.The final result of the election may not be known for some hours, but with more than 70% of votes counted the Coalition has won, or is ahead in, 74 seats in its quest for a 76-seat majority, with Labor on just 66 seats.
Australia has mandatory voting and a record 16.4 million voters enrolled for the election, which returns a new House of Representatives and just over half of the seats in the Senate.For well over two years, the coalition has trailed behind Labor in the opinion polls, and the assumption had been it would be Labor's turn to govern.
But somehow Scott Morrison managed to turn things around at the 11th hour – and he did it largely on his own.
With some of his cabinet colleagues considered too toxic to appear in public on the campaign trail, ScoMo made this election about him, and his ability to be the trustworthy, daggy-dad Australia needed.In the end, it was very, very close, but the voters decided, on balance, he deserved the fair go he craved.
"It has been those Australians who have worked hard every day, they have their dreams, they have their aspirations, to get a job, to get an apprenticeship, to start a business, to meet someone amazing," Scott Morrison said."To start a family, to buy a home, to work hard and provide the best you can for your kids. To save for your retirement. These are the quiet Australians who have won a great victory tonight!"
Mr Morrison's second-in-command, Treasurer Josh Frydenberg, fought off a strong challenge for his seat in Melbourne. He attributed the Coalition's success to "the economic choice" made by voters.In Sydney, Liberal supporter Greg Napper summed up the mood for Reuters news agency: "I thought I was coming to a wake, to be quite honest with you. This is a party – the results are encouraging."
Australia holds elections every three years but, with infighting rife, no prime minister has succeeded in serving a full term since 2007.Mr Morrison said he had united his government – a coalition between his Liberal Party and its traditional ally the National Party – in the nine months since he replaced Malcolm Turnbull.