Zardari, Bilawal condole the death of Usama Qamar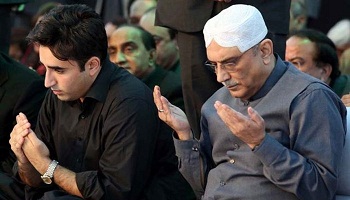 Islamabad: Former President of Pakistan and President Pakistan Peoples Party Parliamentarians Asif Ali Zardari and Chairman PPP Bilawal Bhutto Zardari, in a joint condolence message, have expressed deep sorrow and grief over the death of the young son of President Central Punjab PPP Qamar Zaman Kaira who passed away in a tragic traffic accident Friday. 
Both leaders said that they were saddened by the news of the death of Qamar Zaman Kaira's son.
The leadership of Pakistan Peoples Party and every worker are with the Kaira family in this hour of grief. The death of a young is most unfortunate for the parents.
They prayed to Almighty Allah for grant of eternal peace to the departed soul and strength and fortitude to the bereaved family to bear this irreparable loss with equanimity.