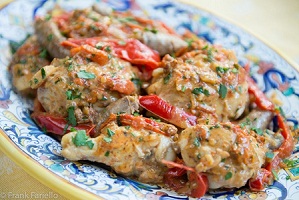 Rome: When Armando Martorelli opened an Italian restaurant in the space The Rosa had occupied for 80-plus years, it was generally assumed that he'd better have thick skin and good, thin Neapolitan pizza crust.
Legend has it that The Rosa held New England's record for the longest continuous run of a restaurant under a family name. Its legacy is ingrained in the hearts and palates of many who would be returning to the hallowed rooms at 70 State Street to see what Armando's Portsmouth was all about.
Martorelli's iteration is a vast eatery with about 200 seats, featuring an ample menu of pastas, pizzas and secondi that reflect the food of Naples, Italy where he grew up. He owns three restaurants in Florida, and is dividing his time between there and Portsmouth.
Tucked between the menu's antipasti and side dishes are 29 entrees and 10 pizzas – plus a build-your-own option. Those numbers will change in the coming weeks when a leaner summer menu comes out.
Reviews for his Portsmouth restaurant, which opened in the fall, have been mixed. There are a lot of "Good. Not great," comments on Yelp. Everyone I mention The Restaurant Formerly Known as The Rosa to, from my drag queen friend to my orthodontist, has heard mixed reviews.
I'd been a few times and was starting to feel the same way. The ravioli stuffed with mushrooms, $18.95, drenched with buttery white sauce was delicious. A lobster ravioli, $20.95, didn't stand a chance, drowned in vodka sauce as it was. Its crab/lobster stuffing was deprived of any chance to surface and the dish had the consistency of stew. The heels of our rolls at that dinner were hard.
After two visits, the words "garlic" and "oregano" were nowhere to be seen in my notes. And though it's all the rage this spring, they hadn't been redacted.
A little research revealed that garlic is used sparingly in Naples, often as a whole clove to flavor olive oil then discarded, adding subtly to dishes.
Still, I wasn't feeling the amore until bartender Nunzio Petrillo came in for the save with three critical moves that elevated my initial so-so take on Armando's:
Professional, courteous and warm service. I had a great server when I went to Armando's on opening night. Then I never saw her again. Subsequent servers knew little to nothing about the menu and showed no enthusiasm. Nor were they attentive, despite not being busy. When I started eating at the bar, that changed. Petrillo was efficient and friendly. Bartending, not unlike teaching middle school, takes a certain personality. Petrillo's threshold for dealing with the drinking public is high. He chats amicably and authentically with patrons about everything from sports on the TV behind the bar, to photography, to the importance of family. (If you want a dose of cuteness, ask to see a photo of his young twins.)
Excellent cocktail mixing. Petrillo is a pro. He came to Portsmouth from Boston where he worked in the North End and at the highly rated Elephant Walk in the South End. Locals will know him from his years at Demeter's Steak House. Sample his magic by sipping a Limoncello, espresso or champagne-cosmopolitan martini, all about $13.
He knows the food and educates patrons about it. In the 1950s, Lady and the Tramp had Tony, the mustachioed Italian chef, crooning to them over spaghetti and meatballs. We've got Petrillo singing Armando's praises. Like his boss, Petrillo's family is from Naples. He waxes effusively about the dishes, except calamari. (He's not a squid guy, but he says patrons love it.)
Petrillo worries that some people are incorrectly dubbing Armando's cuisine "American-Italian." It's Neapolitan cooking, which aims to showcase and balance the flavors of Southern Italy, as well as their fragrance, with a focus on simplicity rather than a power punch. "The dishes we serve here," he says passionately, "are considered the soul food of Italy."
Pollo Scarpariello, $18.95, is a testament to that. Close your eyes and inhale. The robust aroma alone takes you to Italy. Salty pancetta cubes, onions, mushrooms and a boneless chicken breast served over al dente spaghetti are rendered sublime by a finish of buttery white wine and garlic sauce. It's the best pasta dish I've had in recent memory.
Naples also gets credit as pizza's motherland, so it's no surprise that Petrillo encourages me to try a pie. He says Armando's crust is the bomb. The flour is imported from Naples and has a fine consistency. It is not over-processed or genetically modified.
Hoo-boy. He's spot on with that call. There's no finer pizza downtown than the Armando, $15.95. Yes, the perfectly browned crust is light with just the right tug and ends with a fluffy, wide edge. But you'll want this refined beauty for its uniquely spicy salame, long-necked, perfectly marinated artichokes, and delicately sweet dollops of ricotta arranged on a layer of mozzarella and light tomato sauce.
If you are timid about dipping your toe into Neapolitan cuisine, Petrillo will direct you to the parmigianas. Vitello alla Parmigiana, $20.95, will have you shouting, "Abbondanza!" The substantial and tasty dish features lightly breaded veal cutlet, topped with traditional homemade tomato sauce and mozzarella cheese, served over spaghetti. There is enough for two meals. The veal is a pleasing consistency, but not fork tender. The previously mentioned, mostly absent server we'd had early on had armed us with only butter knives, which is how we mangled through it.
Lasagna di Carne, $15.95, is also a well-structured classic. Baked layers of pasta sheets filled in between with ricotta and mozzarella have a fresh zing from the bright tomato flavor of the hearty meat sauce.
The red sauce in the Meleanzane Rollate, $15.95, is all about ripe plum tomatoes. It bathes the eggplant stuffed with ricotta, mozzarella and spinach. Unfortunately, the eggplant's good sear and consistency is overpowered by the cheeses and sauce – perhaps because it is sliced paper-thin. This dish was also served lukewarm, which didn't help.
Carpaccio di Salmone, $12.95, is a satisfying option from the Antipasti Per Due (starters for two) menu, with its sliced smoked salmon marinated with olive oil and lemon juice, topped with capers, onions and goat cheese. It came with one slice of crostini with holes resembling Swiss cheese that did not meet the "servings for two" quotient.
Two meatballs the size of tennis balls, $9.95, set a better pace for the meal, though we wanted a little more zest. A comment was made at the table that this appetizer was your Italian grandmother's portion without her flavors.
At first, desserts were brought in from the outstanding Rossi's Italian Bakery in York. But now that the restaurant is settled in its new space, desserts are baked on premises. Call me traditional, but it seems wrong to leave an Italian restaurant without capping the meal off with a cannoli and/or tiramisu, both of which are delicious and have depth at Armando's.
The extensive wine list includes some priced at a solid value, and our pours were generous. This is good news, because, if you are like me, with "Game of Thrones" and Marvel's Avengers series coming to an end, we're going to have some time to linger over bouquets and blends.
Décor is sophisticated but sparse in some aspects. I'm not saying you have to have Chianti in wicker baskets and Sinatra's voice blaring from the speakers, but white walls and Michael Bublé covering a Van Morrison song doesn't go far in building atmosphere and supplementing the fare.
My reviewing partner at Access Navigators likes to slip into Armando's on occasion and she recommends sitting at the kitchen bar to watch the choreography of the cooks. "It's almost dinner theater," she says. Wheelchair access gets two thumbs up thanks to an accommodating entry, standard height tables and an accessible restroom.