Farishta incident not the first or last: Farhatullah Babar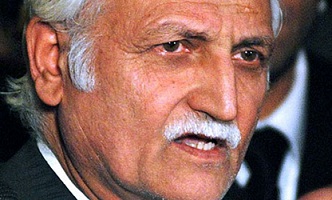 Islamabad: The tragically gruesome Farishta incident is neither the first nor will be the last as it is a manifestation of a security driven state where police and uniformed forces trump rule of law.
This was stated by ex senator Farhatullah Babar at a protest demonstration organised by civil society in front of national press club in islamabad Wednesday evening.
He said that plenty of laws were there but were not being implemented because the criminal justice system was totally broken and dysfunctional.
In a broken justice system the poor and underprivileged suffered regardless of where they lived. Farishta suffered even though she lived with her parents in the federal capital islamabad, he said.
He said that child protection Act had been passed but the child protection commission had not been set up because that was not a priority in a security driven state and called for urgently setting up child protection commission
Afrasiab Khattak and ex Ambassador Ashraf Qazi and others also spoke on the occasion