Qureshi discusses regional situation with Iranian counterpart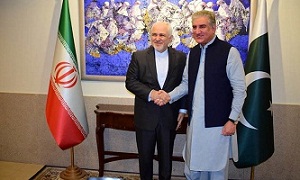 Islamabad: Foreign Minister Shah Mehmood Qureshi Friday received his Iranian counterpart Dr. Javad Zarif in the Ministry of Foreign Affairs.
This is Foreign Minister Zarif's third visit to Pakistan since the new Government assumed office.
Foreign Minister Qureshi exchanged views with Dr. Zarif on recent tensions, undermining peace and stability in the region. Important issues related to bilateral relations were also discussed. Both sides appreciated the progress on important decisions made during Prime Minister Imran Khan's recent visit to Iran and the need to continue regular engagement for expanding cooperation in all areas.
Views were exchanged on promotion of bilateral trade, facilitation of the people to people contacts and movements, opening of the new border crossing points, establishment of new border markets and enhancing security along Pakistan-Iran border. Views were also exchanged on important regional issues including recent developments concerning peace process in Afghanistan.
Foreign Minister Qureshi expressed concern over rising tensions, threatening the stability of an already volatile region. He underscored that any miscalculation or accident could escalate the tensions to a dangerous level. He also emphasized that Pakistan did not favour a conflict and believed that all sides should exercise maximum restraint and work in a spirit of easing the tensions.
The Foreign Minister stressed that disputes should be resolved within the framework of international law and through dialogue and diplomatic means.
Underscoring the utility of the Joint Comprehensive Plan of Action, Foreign Minister Qureshi stated that the Agreement was a good example of negotiated settlement of complex issues through diplomatic means. He added that Pakistan supported JCPoA and noted the efforts of the other parties to the Agreement to salvage the deal. Faithful implementation of obligations by all parties was vitally important.
Foreign Minister Qureshi conveyed that Pakistan stood ready to work with all sides to help lower tensions and preserve peace and stability in the region.