Italy fetes ties with China on National Day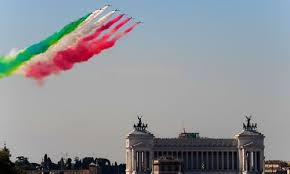 Rome: On June 2, Italy celebrated its National Day. Our Festa della Repubblica is a very special day for millions of Italians all over the world. It's a day to take pride in the unique culture of Italy, to reflect on the past and to look forward together to the future.
The Italian Republic was established 73 years ago. It is based on the repudiation of war, defense of solidarity, equality, freedom, democracy, work and peaceful coexistence among people.
These core values are enshrined in our Constitution, giving the most profound meaning to our National Day. Italy has been steadily pursuing peace, stability and prosperity for all.
We have been always moved by a natural attitude to promote dialogue among different cultures and civilizations. Since the times of the ancient Romans, through the Renaissance age, years of our economic boom, and after the tragedy of World War II, Italians have earned a reputation for connecting distant places, building extensive network of roads, establishing maritime routes.
This vocation to communication and collaboration drives in its essence the partnership between Italy and China as they approach their 50th anniversary of diplomatic relations in 2020, through our common path, the "Road to 50."
Our two countries share strong and long-standing bonds. Friendship, mutual respect and cooperation have stood the test of time and laid the foundation for the tremendous progress achieved over the last few years.
It is a fact that Italy and China have been enjoying strong economic ties. Further strengthening these relations is an objective to move ahead, to promote more opportunities for growth and development in both countries.
Our ambition is to have far more Italian products and services available for the Chinese consumers, so that we can balance our trade deficit.
Therefore, we welcome the strong commitment by the Chinese leadership to improve market access while creating a more enabling environment for foreign investors.
Also known for its beauty and its lifestyle, Italy has a lot to offer to the development of a "Beautiful China." Sustainable urbanization, high quality manufacturing, food safety, space, health services, logistics, green tech, clean energy, smart design, are all areas in which the Italian production system excels.
There is no better country in the world than Italy, where all such features contributing to what we mean by "quality of life" have been fully integrated into our products and blueprints.
Much of the merit for that goes to the talent, creativity and professionalism of our manufacturers. This is particularly clear this year, since we celebrate Leonardo Da Vinci, a great artist and a great innovator, a genius of Italy and humanity.
As China pursues qualitative development and increasingly opens up its economy, we would expect our bilateral trade relations to further expand.
Yet, the partnership between our two countries is wider than economy and trade. Actually, we have been progressing in many sectors.
Being two "cultural superpowers," Italy and China have been cooperating for the finalization of the twinning among Italian and Chinese UNESCO world heritage sites, taking advantage of their invaluable cultural heritage and promoting tourism.
We welcome the steady increase in applications for tourism and business visas. Italian and Chinese police forces are collaborating in a program of joint patrolling in several tourist destinations in the two countries. Our universities are launching new cooperation projects and academic exchanges, taking the best out of the enthusiasm and talent of our students.
This year, marking the 15th anniversary of the establishment of the strategic global partnership between our two countries, has been truly exceptional so far.
Italy welcomed President Xi Jinping on an historic state visit in March. Few weeks later, our Prime Minister Giuseppe Conte led the Italian delegation to the second Belt and Road Forum for International Cooperation in Beijing.
The scope and the intensity of these top institutional exchanges mirror the variety and width of our bilateral dialogue. Cooperation in economy, trade, science and technology, culture, education, tourism and sports, has never been as promising as today.
This is also true for our shared engagement on many important global issues, such as the fight against climate change, the Eurasian connectivity, the implementation of the UN 2030 Agenda, the reform of the UN Security Council, just to name a few.
Italy and China will also strive to enhance cooperation in third countries, whereas more opportunities are likely to arise out of the implementation of a dedicated memorandum of understanding adopted last September, as well as in the context of the Belt and Road Initiative, in perfect harmony with EU-China Connectivity Platform and according to the best international standards and principles.
To quote our President of Republic, Sergio Mattarella, the keys to peace and prosperity are represented by collaboration, mutual understanding and the increasing removal of barriers between peoples, a shared development and by the avoidance of all types of conflicts.
Seeking dialogue, promoting cooperation, tracing new roads is not easy. It is challenging.
I am convinced that Italians and Chinese are both determined to live up to this challenge and to the highest expectations of their ancestors, being so ingenious and forward-looking in connecting two continents so far apart.
On this basis, Italy and China look to the future of their partnership with growing confidence and everlasting optimism.