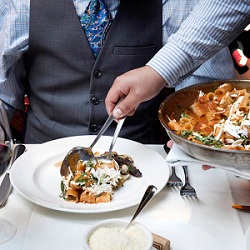 Tokyo: Amid concerns over the spread of "fake" Italian food around the globe, an event featuring authentic Italian tastes was held in Tokyo recently, as part of a project led by the Italian Economic Development Ministry.
The Extraordinary Italian Taste project was launched to promote and safeguard authentic Italian food products outside Italy, under which various programs started in the United States, Canada and Mexico in 2016, and even in Europe. The first event under this initiative in Asia, the Authentic Italian Table, was held on May 28 in Tokyo.
"This is a project to fight fake Italian food," Davide Fantoni, secretary general of the Italian Chamber of Commerce in Japan (ICCJ), said at the event's opening ceremony. To that end, he stressed the importance of boosting cooperation with local people such as chefs, specialty shop operators and foodies.
About 25 Italian restaurants in Japan participated in the event. They are among 115 eateries certified by the ICCJ for respecting traditional recipes and selecting genuine ingredients.
A wide variety of regional Italian culinary traditions, from pasta, pizza and cheese to wine, espresso and sweets, was showcased by the eateries, including Antichi Sapori, which offered fresh, milky burrata cheese and other specialties of the Puglia region; and Tanto Tanto, which served appetizers using high-quality products from the Emilia-Romagna region.
The event also featured a live demonstration by Simone Cantafio, chef and director of Michel Bras Toya Japon, the Michelin-starred restaurant at the Windsor Hotel Toya. Benedetta Parodi, a well-known Italian cooking personality, participated via live streaming from Italy.
According to the ICCJ, about 1,000 people visited the event.
"Mingling with people from other restaurants and like-minded others beyond my regular work was a significant experience for me," said Yu Nagano, chef of the Sardinian restaurant Tharros in Tokyo that participated in the event. "I want to boost this initiative through further cooperation among Italian businesses and eateries."