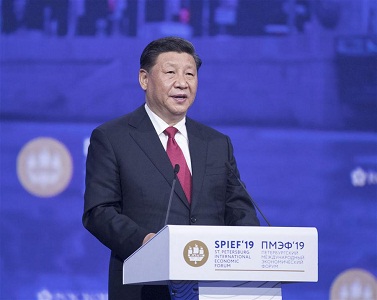 St. Petersburg: Chinese President Xi Jinping here called for joint efforts in forging ahead with sustainable
development and the building of a community with a shared future for mankind.
Xi made the remarks in his address to the plenary session of the 23rd St. Petersburg International Economic
Forum (SPIEF), which was attended by Russian President Vladimir Putin, Bulgarian President Rumen Radev,
Armenian Prime Minister Nikol Pashinyan, Slovak Prime Minister Peter Pellegrini and UN Secretary-General
Antonio Guterres.
Facing the world's profound changes unseen in a century, said Xi, China stands ready to make joint efforts
with the international community to create an open and pluralistic world economy, a happy society that is
inclusive and benefits all, and a beautiful homeland with harmonious coexistence between humanity and
nature, and explore a new path of sustainable development.
Noting that this year marks the 70th anniversary of the founding of the People's Republic of China, Xi said
China, as the world's largest developing country and a responsible major country, has been unswervingly
fulfilling its commitment to sustainable development and attached great importance to enhancing global
cooperation on sustainable development.
The Chinese president recalled that he put forward the Belt and Road Initiative in 2013 to realize win-win
cooperation and common development among countries, adding that the initiative, highly compatible with the
UN 2030 Agenda for Sustainable Development in terms of goals, principles and implementation approaches,
has received positive response and support from the international community.
At the second Belt and Road Forum for International Cooperation, which was successfully held in April in
Beijing, all participating sides agreed to forge ahead with high-quality joint construction of the Belt and Road
along a green, low-carbon and sustainable development path.
Calling Russia China's priority cooperation partner in all areas, Xi said jointly building the Belt and Road
shares a similar philosophy with the Greater Eurasian Partnership proposed by Putin, adding that the two
initiatives can support each other, facilitate each other and advance together to forcefully promote regional
economic integration and realize common sustainable development.
Sustainable development answers to the common calls of most countries in the world, Xi said, laying out three
areas where China and the rest of the world can work together in exploring a new path of sustainable
development.
Firstly, we should stick to the principle of extensive consultation, joint contribution and shared benefits, and
work together to create an open and pluralistic world economy, said Xi.
China will continue to expand opening-up, relax market entry rules and nurture a market environment
featuring fair competition, he said.
China will push ahead the process of economic globalization, uphold the multilateral trade system, endeavor
to solve the imbalance and inequality in global economic development, and create more opportunities for
developing countries, he said.
China, he added, is willing to share with the rest of the world its latest research and development results
including the 5G technology so as to jointly cultivate new core competitiveness.
Secondly, we should stick to the practice of putting people first, and strive to build a happy society that is
inclusive and benefits all, said the Chinese president.
China will continue to push ahead its targeted poverty alleviation efforts, increase employment, support
vocational education and healthy development of volunteer services and charity work, and protect the
legitimate rights of disadvantaged groups, Xi said.
China, he added, is willing to boost communication and cooperation with other countries in such areas as
poverty reduction and social security, in order to bring a greater sense of achievement, happiness and security
to all peoples.
Thirdly, we should stick to the pursuit of green development, and try to build a beautiful homeland with
harmonious coexistence between humanity and nature, Xi said.
China will uphold the concept that clear waters and green mountains are as valuable as mountains of gold and
silver, strive to win the battles against air, water and soil pollution, encourage the development of green
industries and renewable energy, and promote economical use and recycling of resources, Xi said.
China, he added, will join hands with other parties to address urgent issues like climate change and
biodiversity protection, and implement global consensuses such as the Paris Agreement.
Stressing that peace and development remain the theme of today's world, where the destinies of different
peoples are unprecedentedly interwoven and the interests of different countries are unprecedentedly
integrated, Xi noted that meanwhile the world is facing increasing new issues and challenges.
Unprecedented inadaptation and asymmetry are emerging between the global governance system and the
changes of the international situation, as emerging-market economies and developing countries are rising at
an unprecedentedly high speed, and the new round of technological and industrial revolution is leading to
unprecedentedly fierce competition, said the Chinese president.
As the world is standing at a crossroads of history again, pooling wisdom and efforts of everyone to cooperate
and achieve win-win outcomes is the right choice to address changes in the world, Xi said, highlighting
sustainable development as the "golden key" to solving global problems.
Xi said China stands ready to make concerted efforts with all other parties to uphold the concept of
sustainable development, shoulder the responsibility of building a community with a shared future for
mankind, advocate multilateralism, and improve global governance, so as to promote long-lasting peace in the
global village and create a more prosperous and beautiful world.