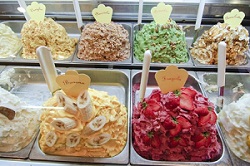 Rome: While standing on Venice's Scalzi Bridge eating gelato and overlooking the gondolas that ply Grand Canal at sunset, it's hard to imagine that just an hour ago we were navigating our way through a busy airport.
Everything in Italy is just how I imagined it—better even!
But my friend and I didn't arrive in Venice on a whim. As two 18-year-olds going on their first independent European vacation, we planned our trip to Italy for months.
It's impossible to experience all of what Italy has to offer in one trip; that's why we decided to pick four places we really wanted to see over a span of three weeks: Venice, Florence, Naples and Rome. We booked all of our flights, accommodation, trains (from city to city) and access to the main attractions online before we left home—a must if you want to avoid hours-long line-ups and stress.
While planning the trip, safety was an obvious concern as we were travelling alone; however, while staying vigilant on any trip at any age, we found everyone was friendly and helpful. This also helped us navigate the amazing public transportation systems, something teens from Pemberton have little experience using.
In Venice, we stayed at the newly built and affordable Anda Hostel in Mestre, a perfect choice for young travellers.
If you are staying in Venice for three days or more, purchasing the Rolling Venice Pass is a good idea. The pass provides unlimited travel on Venice's vaporettos (water buses) and ACTV buses for three consecutive days. When in Venice, travelling by water is the fastest way to get around—and definitely the most fun.
Venice is truly a jaw-dropping, architectural feat, with a magical feel—indescribable even. We spent hours contently wandering the narrow streets and passing over some of the more than 400 bridges spanning the city's rios.
We found Florence expensive, but worth visiting—especially if you are an art lover.
Many of the top attractions are clustered so walking between them is easy. Tourists flock from all over the world to see Florence's sites such as Michelangelo's David, Brunelleschi's Dome, the Ponte Vecchio and the Uffizi Gallery.
To the southern end of the city, you can climb up to Piazzale Michelangelo (a place many tourists don't know about) that has a fantastic panoramic view of the city with the Duomo front and centre.
In Naples, we stayed at the Hostel of the Sun, a funky hostel close to the city's Centro Storico. This city was our ultimate destination for food—inexpensive, huge portions and pizza galore!
It's also a perfect place to stay if you want to go on a day trip to Capri. Exploring the green, rocky cliffs of this Mediterranean island, hiking Monte Solaro, and taking a dip in its crystal clear waters is unforgettable.
As well, it's a quick train ride to Pompeii from Naples. One would expect Pompeii, the victim of Vesuvius' eruption in 79 A.D., to be overrun with tourists on a Sunday in the middle of spring break. But there were still sections of the city where we found ourselves completely alone. We spent more than seven hours wandering Pompeii's expansive network of cobblestoned streets.
If you're planning a trip to Italy, Rome is a must-see destination. Booking ahead is crucial when seeing sites like the Vatican Museum and the Colosseum.
Buying tickets for the Colosseum's Underground and Panoramic Tour was like purchasing concert tickets; it sells out so quickly that we pulled two all-nighters just to secure them online. In the end, however, the tour was worth losing sleep for!
At the Vatican, we were lucky enough to attend spring mass with Pope Francis—something we didn't have to book ahead for, shockingly enough.
It was in Rome that we found our favourite gelateria of the trip. Giolitti's, tucked away between Piazza Navona and the Pantheon, has great flavours and gives you the option of whipped cream on top.
Having gelato every day is a must when travelling in Italy!