New air route links Hangzhou, Italian capital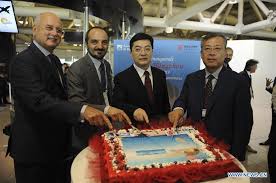 Hangzhou: A new direct air route was launched on Wednesday linking the eastern Chinese city of Hangzhou and Rome as part of a celebration to mark the 50th anniversary of diplomatic ties between China and Italy.
The round-trip air service will be offered by Air China three times a week on Wednesday, Friday and Sunday, using an Airbus A330-200 aircraft.
Outbound flights will depart from Hangzhou at 0:25 a.m. Beijing time and arrive in Rome at 6:55 a.m. local time. Return flights will leave Rome at 1:05 p.m. local time and arrive in Hangzhou at 6:30 a.m. the next day.
"China and Rome were connected by the ancient Silk Road over 2,000 years ago, and the launch of the new air service under the Belt and Road Initiative is part of an important celebration of the 50th anniversary of the establishment of diplomatic relations between China and Italy," said Ding Hong, general manager of Air China's Zhejiang branch.
This is Air China's first direct air service to Rome in eastern China and the fourth direct passenger route Hangzhou Xiaoshan International Airport has opened to Europe.
Bilateral exchanges between the two countries have been on the rise in recent years, with total bilateral trade surpassed 50 billion yuan (about 7.2 billion U.S. dollars) last year. The number of tourists from Zhejiang to Italy also rose rapidly in recent years, with passengers from the two cities of Hangzhou and Wenzhou alone registered an annual increase of 14 percent, according to Air China.