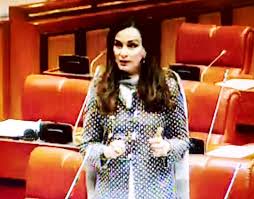 Islamabad: Pakistan People's Party (PPP) Parliamentary Leader in Senate, Senator Sherry Rehman said the new budget was 'made in' International Monetary Find (IMF).
Speaking on the floor of the Senate, she said the IMF has brought the government on its knees prior to the loans even being approved. Owing to this, the rupee has plunged to 154. It's not that we have never turned to the IMF but we have never been put in such a state that prior agreements are made without the approval of the parliament. When we went to the IMF, we got 5 times more than what the country qualified for – a 7.6 billion program that we successfully completed with the trust of the government".
Rehman said, "The standard procedures followed by democracies across the world before laying the budget were disregarded by the government. Despite the fact that both houses have finance committees, there was no consultation. The budget and the parliament are closely linked. We started a trend which the PMLN government picked up after us which was at least moving the country towards democratic procedures; the constitutional peaceful transfer of power and stable government was running through the parliament".
"What the government is doing falls in the ambit of economic terrorism. Petrol has gone up to over 20%, during PPP's term, oil prices were up at $147 per barrel but we still managed to keep domestic fuel prices down. Currently, oil price is around Rs. 60 per barrel so what justifies the skyrocketing oil prices in the country? These prices are ruining livelihoods," lamented Rehman.
The Senator criticized the government's policies that have caused more burden on the working class, she said, "A single naan is for Rs.12 which means people can't even afford two meals a day now. From Karachi to Khyber, no stove was burning because of inflated gas bills. How will all of Pakistan have their tea when they impose a 17% tax on milk and sugar? People are losing their purchasing power as their disposable income is shrinking because of high taxes and price increases. The government has been fixated on austerity. They have cut down on our water and food but why doesn't austerity apply to the PM house, the expenditure of which has gone up by 18.8%. Their own houses are being regularized but the houses of the poor are being demolished. They promised 10 crore jobs but they are only increasing unemployment by bulldozing small businesses."
Rehman elaborated that, "They haven't increased the corporate taxes; they have given the bailout to the stock brokers of about Rs. 20 billion. If they had so much money to bail the rich out, how come they do not have the money to provide relief? They should ask the poor how difficult it is for them to buy food staples. This government is now claiming that they are creating a tax culture – they should try widening the tax net, which is not done via tax amnesty schemes. This government had shown strong opposition to such schemes in the past, they had staged protests over this".
"Now they are introducing the Ehsaas program to deal with poverty which is basically a cut and paste version of BISP. The Sehat Insaf Card too was a rebranded version of PMLN's Prime Minister's National Health Program. This is supposedly their Inqilaabi Sarkar. What is this, if not misrepresentation?" asked the Senator.
The former Leader of the Opposition also slammed the government for the debt it has continued to incur, saying, "On average, in the last 10 years, Pakistan's public debt only increased by $6.6 billion a day through borrowing even if we were to get an average from both the PPP and the PML-N. In the last 10 months, this rate of public borrowing has gone up to $14 billion a day. Now they are saying that they will conduct an inquiry but they are the ones who should be inquired. In 10 months, what have they done with Pakistan's debts? They have put the future of all of us Pakistanis at stake without obtaining any permission or consultations from the parliament."
Rehman further said, "In a budget, expenditure and revenue have to balance – but here we have a deficit which is 7.1 percent of the total GDP which is unacceptable. And they put all the blame for their economic failure on past governments. There is no plan for growth in this budget – it is alright that they have imposed a tax on the cement industry but how will they deliver their promise of housing if the price of cement increases. They have promised to build 5 million housing units where they have to build 100,000 houses every month but nothing is being constructed. Did they not do their homework before they started lusting for power? Were they not doing their homework when they were camping out in their containers?"
"PTI has started to synonymise democracy with corruption, and are trying to bring forward the presidential system. This government is trying to take over Sindh as well, and are attempting to undermine the 18th amendment. PTI is taking us towards the dark ages. A government is not based on narratives, but rather on accountability and on being answerable," concluded the Vice-President PPPP.