Opposition to form committee against anti-people budget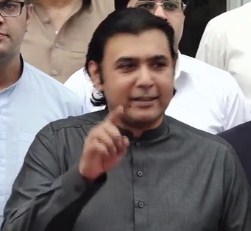 Islamabad: Senator Mustafa Nawaz Khokhar has said that Bilawal has thanked the Muttahida Qaumi
Movement (MQM) Pakistan for demanding to issue the production order of President Asif Ali Zardari.
In a statement, the spokesman to the Chairman Pakistan People's Party (PPP) Bilawal Bhutto Zardari, said that
PPP thanks all those parties in the Parliament that have supported the demand for issuing production order of
Zardari.
He said that all political parties will have to play their role to strengthen the Parliament. Former President
Zardari empowered the Parliament and now it is the need of the hour to protect the powers of the Parliament.
Senator Mustafa Nawaz Khokhar said that Chairman Bilawal has announced to form an Opposition Committee
to stop the budget from being passed. The second letter demanding production order also has the signatures of
government coalition partners and the government is trying to pass the budget through dishonest means. The
government is not allowing Opposition Leader to deliver his budget speech, neither the production orders of
President Zardari, Mohsin Dawar, Ali Wazir and Saad Rafique are not being issued because the government
wants to deprive them of participation in the budget discussion and voting against the budget. Opposition is
fighting tooth and nail for the rights of the people.
It is essential to stop this government from passing this anti-people budget because the budget was suicide for
the country. Opposition parties will soon chalk out their strategies to stop the government from passing this
budget, he added.