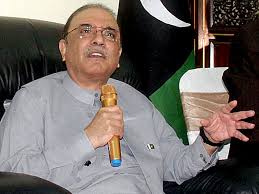 Islamabad: Former President and President and Pakistan People's Party (PPP) co-Chairman Asif Ali Zardari Thursday said that the PPP will struggle to make Pakistan a decent and progressive society and will continue according to the philosophy and mission of Benazir Bhutto.
President Zardari said this on the eve of 66th birth anniversary of Benazir Bhutto. He expressed his resolve to eliminate hunger, poverty, ignorance and unemployment from the country. He also resolved to defend the powers of Parliament. PPP is opposing such elements and their ideology that wants to weaken democracy and strengthen and promote hatred, intolerance and extremism.
Asif Ali Zardari said that restoration of 1973 constitution is the fruit of struggle of Benazir Bhutto. PPP has implemented its manifesto by restoring constitution in its original form, giving identity to Gilgit Baltistan and Khyber Pakhtunkhwa and granting provincial autonomy. He said that people are worried about their future in current political and economic situation but PPP reiterates its resolve to end people's fears.
He said that PPP will provide a civilized, cultured, progressive and pluralistic society to coming generation so that the dream of Benazir of an egalitarian society could be materialized. For this he appealed to the nation to strengthen Chairman Bilawal Bhutto. A young and energetic leadership has come to the fore in the person of Bilawal Bhutto Zardari who is holding the flag of Zulfikar Ali Bhutto and Benazir Bhutto, he concluded.