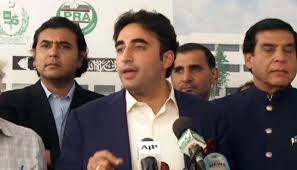 Islamabad: Pakistan People's Party (PPP) Chairman Bilawal Bhutto Zardari has condemned the arrest of PPP candidate for Khyber Pakhtunkhaw Assembly Imran Mukhlis Wazir from Wana, South Waziristan.He said the arrest of PPP contestant is part of pre-poll rigging.
The PPP Chairman categorically stated that the PPP won't accept elections conducted under tip of gun. PPP contestant Imran Mukhlis Wazir has in recent past been intimidated of life consequences.Bilawal Bhutto Zardari said that it is no secret that the federal and KP provincial governments are fully bent upon sabotaging the first ever elections for Provincial Assembly in former FATA areas.
He said Imran Wazir has been arrested because he had raised his voice of concern over different forms of pre-poll rigging against PPP and other opposition parties. He said that the PPP would never compromise over rights of tribal areas and demanded that the arrested PPP candidate, Imran Mukhlis Wazir should immediately be released.
Bilawal Bhutto Zardari said that the federal and KP provincial governments are afraid of their imminent defeat and hence they are using unfair practices and are carrying on pre-poll rigging.