China's Qu elected new head of UN Rome-based food agency FAO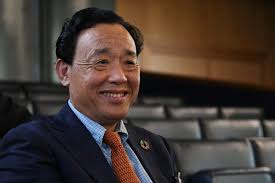 Rome: Qu Dongyu, China's vice minister of Agriculture and Rural Affairs was elected as new Director-General of the United Nations Food and Agriculture Organization (FAO) here on Sunday.
Qu, 56, was chosen during the ongoing 41st FAO Conference, the highest governing body of the Rome-based agency.
The Chinese candidate received a large majority of 108 votes, winning over French Catherine Geslain-Laneelle, who received 71 votes, and Georgian Davit Kirvalidze, who got 12 votes.
From the delegates of all FAO's 194 member states involved in the voting, a total of 191 votes were cast, and one abstention was registered.
Qu became vice minister at the Chinese Ministry of Agriculture and Rural Affairs in 2015. Before that, Qu had worked at the Chinese Academy of Agricultural Sciences headquartered in Beijing.
Qu will officially take the post as new FAO chief starting from Aug. 1. He has become the first Chinese national to be elected as FAO Director-General.
He will succeed Brazilian Jose Graziano Da Silva, who has served as the agency's top official for two consecutive four-year terms since being first elected in 2011.
The election took place during the second day of the FAO Conference, which gathers twice a year. This 41st session opened on June 22 and would last through June 29.
The UN Food and Agriculture Organization was founded in 1945, and it comprises of 194 member states, plus one member organization (the European Union) and two associate members (the Faroe Islands and Tokelau).
China has joined the organization since its inception, and has long been a major contributor to the agency's activities and especially to FAO's South-South Cooperation Program.
According to the agency, FAO specific activities in China focus on five priorities, including strengthening capacity for quality and safety management of agricultural products, boosting capacity to respond to diseases, climate change and natural disasters, and promoting sustainable agro-ecological development.