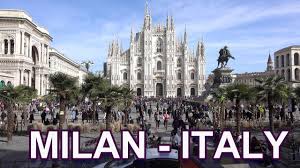 Milan: Not long ago, Milan was considered to be Italy's least exciting food city: home to a breathtaking cathedral and well-heeled fashionistas but with little to offer in the way of creative or authentic food. However, the opening of restaurants such as Trattoria Trippa (in 2015, and now the darling of Milanese diners and one of the most sought-after reservations in the country) and in hosting the World Food Expo in the same year, perceptions of Milan started to shift. Our pick of cheap eats, bars and desserts highlights a food scene away from the ritzy restaurants and tourist traps many associate with the city.
Opened by three friends in 2012, Pavè epitomises Milan's relatively recent surge in cafes and restaurants that rank quality of ingredients above all else – and have been launched by young entrepreneurs. The cafe is a short walk from the famous central station and, with great coffee and pastries, is the ideal spot to have a typical Milanese breakfast of a brioche with tangy apricot jam and a cappuccino. The lunch and evening menus of house-baked focaccia pizza, savoury croissants stuffed with mortadella and rocket, and flaky tarts overflowing with fruit, are also worthy of a detour. The gelato-centred offshoot of the original cafe (Pavè Gelati and Granite, Via Cesare Battisti 21) is just as beloved by locals and shares the same commitment to quality ingredients.
Until recently, Milan's best seafood was often only available at high prices in upmarket establishments. It can now also be found at the distinctly unpretentious Pescetto, a five-minute walk from Porta Garibaldi. Abundant options make the fish counter a spectacle; your job is to choose what you want and how you want it cooked. I recommend the shrimp scampi sautéed with garlic and spicy pepperoncini (€7.90/100g), octopus grilled alla piastra (€3.40/100g), and the popular fish tartares (from €4.50/100g). Glasses of chilled wine and side dishes of homemade potato chips or mixed-greens are €2.50 – and are a great way to round out your meal.
Macelleria Popolare (also known as Mangiari di Strada): City regulations mean there are few street-food options in Milan but Macelleria Popolare, the popular butchers in Porta Ticinese's indoor Mercato Comunale, is a welcome exception. Little more than a meat counter at first glance, this stall run by master butcher Giuseppe Zen serves grilled meats and braised offal (from €6). Try the juicy sheep sausage or the lampredotto stew, a Tuscan delicacy made from a cow's fourth stomach. Fearing that the traditions of Italy's cucina povera (food of the poor) are disappearing, Zen is committed to preserving dishes that focus on the simple preparation of high-quality ingredients. Zen also runs a bakery that supplies the bread for his meat panini, and his partnership with an artisanal casearia – at a nearby cheese stall – produces some of Milan's best dairy products.
Vinoir and Vinello: Milan has undergone a natural wine revolution and Vinoir and Vinello are among its best bars devoted to organic, naturally-fermented wines. Vinoir, Milan's first natural wine enoteca, is on the outskirts of the busy Navigli district, far from the touristy restaurants of the centre, and is a great place for dinner and drinks Try one of the handmade fresh pastas, like the scallop tagliatelle, paired with an orange wine (starters from €5, mains from €10). Vinello, further west in the Gambara neighbourhood, is also a respite from tacky restaurants and rowdy-bar crowds. Food offerings are simpler, with shareable spreads for under €10, and the outdoor seating in the piazza is paradise on a sunny day. Both wine lists (from €5 a glass) are curated to highlight small-scale producers from Italy and beyond.
Gelateria Paganelli: This family-run gelateria opened in 1930. The selection of flavours strikes the balance between classics (the pistachio and dark chocolate are divine) and newer creations, such as fig and tiramisu (cones from €3). Even the downright-strange flavours, like Szechuan-pepper sorbet, are delicious, as are the granite and wine sorbets. Its location, down a quiet side street in the Varesina neighbourhood, provides a chance to explore a part of the city you may otherwise miss. If stuck in the vicinity of the Duomo with whining children or a "hangry" travel mate, make your way to Ciacco. This gelateria, originally from Parma, offers gelati twice as good and half the price of others in the area.
Pizza AM, Milan: It may not be Naples but Milan still offers plenty of choice for wood-fired pizza. One of the best – and most fun – pizzerias is Pizza AM. Queues are guaranteed but, fortunately, free helpings of wine, beer, and warm panini – served at the door by the inimitable Mauro – make waiting part of the experience. Once inside, the atmosphere and decor are lively and you can watch the pizzaioli stretching the dough in the open kitchen. You can't go wrong with any of its pizzas but the Napulitana with capers and anchovies or the Marinara with parmesan and garlic are especially good.
Fratelli Torcinelli: Two blocks from Pizza AM is Fratelli Torcinelli. The food at this 18-seat lunch and dinner joint skews southern Italian cuisine – with particular influence from Puglia – and gives diners a choice of a panino or plate loaded with meat and heritage vegetables (from €7). Menu mainstays are the bombette of pork coppa – on a light, flaky bun with sautéed greens and aioli – and the lamb liver torcinelli paired with mayo and roasted artichokes. Rotating daily specials, such as tender sweetbreads with foraged greens and lemon, are always a treat.
Il Brutto Anatroccolo: No visit to an Italian city is complete without a meal at a classic trattoria and Il Brutto Anatroccolo (the ugly duckling) is perhaps Milan's best old-school dining experience. The menu, written by hand and ridiculously cheap, changes every day. Timeless renditions of ossobuco alla Milanese (veal shanks) with saffron risotto (€9), veal cutlet (€7), and tiramisu (€3), make this the ideal place to sample Lombardy's regional cuisine. Its location among the graffitied storefronts of Via Giuseppe Meda, south-west of the crowded Navigli district and city centre, means there are few tourists.
Cantine Isola: Milan is where the tradition of aperitivo is practised in its purest form and Cantine Isola is the ideal place to join the Milanese masses who descend on the city's bars after work for drinks, socialising, and appetizer buffets. Wine by the glass starts at €5, and the friendly bar staff will open any bottle in their impressive stock, dating back to 1896, for even a single pour. Before heading outside to savour your drink on the street, help yourself to the buffet. With bread doused in fragrant olive oil, cheese platters, fresh vegetables and bruschette heaped with cured meats or tomatoes, it's far more appealing than the standard aperitivo spread.
Ravioleria Sarpi: Across the street from Cantine Isola is a different but no less Milanese experience. Ravioli refers to any dumpling or stuffed dough and Ravioleria Sarpi, with its twin storefronts, serves great Chinese dumplings. Opened in 2015, the Ravioleria is the brainchild of Agie Zhou, an economics graduate of Milan's Bocconi University, who partnered with the Italian butcher next door to source meat from biodynamic farms in Piedmont's Langhe region. There is no seating, so eat on the street or take your baozi (€2) stuffed with juicy ginger-pork and beef or the light dumplings (4 for €3) filled with savoury tofu, spinach, carrot, and onion back to the Cantine. The partnership between the ravioleria, butcher shop and bar makes this a special corner of Milan.