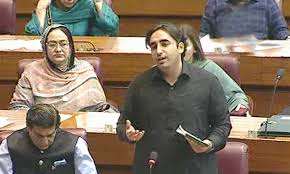 Islamabad: Chairman Pakistan People's Party Bilawal Bhutto Zardari has asked the government to withdraw its anti-people budget because over 8 million more people have already fallen below poverty line during nearly one year of PTI government.
Chairman PPP was addressing the parliament on budget. He said that tin pot dictators have called even Fatima Jinnah a traitor but the nations rejected these dictators and these dictators are now in the dustbin of history. People have sacrificed a lot for this democracy so that we all can sit in this parliament. He said that parliament is not complete until the representatives of North and South Waziristan are produced in this house otherwise the history will record that these members and their constituencies were deprived of representation in this house. Chairman Bilawal said that his and opposition freedom of expression is being curbed. Different views are heard in democracies to chalk out policies for the people.
In his speech Chairman PPP said that in his absence the deputy speaker expunged the word "selected" and banned it from this house but Imran Khan had thumped desk when he was called 'Selected Prime Minister' the first time in this very parliament. If Imran Khan is not selected prime minister then why committee for election rigging is formed, he asked. He said that slavery of a puppet prime minister is unacceptable. This censored Pakistan is unacceptable. An independent Pakistan is the solution not a censored Pakistan, he said.
Bilawal Bhutto Zardari said that the federation has not been able to collect taxes and people are paying for this incompetence of PTI government whereas Sindh has collected taxes more than any province and also expanded its tax base. He further said that this time around three provinces will get less money from national kitty and they will face economic difficulties. The center has usurped three best hospitals of the country which belong to Sindh and no money has been allocated for these hospitals in the budget either. This act of government is undermining the provincial autonomy. Every common Pakistani will feel the hardship due to this budget that is why it is anti-people. Sindh has collected the most taxes and federal government should learn from Sindh. He said that BISP program will not be allowed to be replaced by Ahsas Program. Small businesses are being raised to the ground in the name of encroachment but the Bani Gala Palace was illegally regularized. This double standard is not accepted, he said.
He said that during PPP government the world economy was under pressure and oil prices were high but PPP managed and the Petrol prices were kept under control as the poor cannot afford high petroleum prices.
He said that Parliament is supreme institution and NAB and ISI etc are answerable to parliament not the other way around. There should be parliamentary forum to probe budget and government spending if needed not any commission. He asked that what is the need of National Development Council and why the institution of army has been dragged into it. Army of every country in democratic world keep away from economic matters and it should also be kept away in Pakistan. He said that government should not push army into economic matters just to hide its own incompetence.
Concluding his Budget speech Chairman PPP said that in this new Pakistan everything is destroyed from politics to economy and human rights to judiciary. The incompetent government is filing references against members of judiciary to pressurize the institution of judiciary. He said that this government has to go as Pakistan Peoples Party will not compromise human rights, political rights, the right of expression and democratic rights.