Mian Raza Rabbani dismayed over Fehmida Mirza's NA speech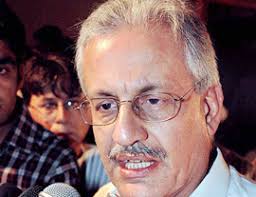 Islamabad: Former Chairman Senate Mian Raza Rabbani has expressed profound shock and dismay over the claims made by the Federal Minister Inter Provincial Coordination Fehmida Mirza in the National Assembly about the 18th Amendment.
"It is outlandish for the Minister, the daughter of the Information Minster of dictator Ziaul Haq, to claim credit for the 18th amendment on the one hand and to also to criticize it at the same time," he said.
It was the Pakistan People's Party, of which she was then a member, which took the decision to purge the Constitution of the anti democratic Articles introduced into it by a military dictator, he said. It was the PPP which had nominated her as Speaker of National Assembly and it was President Asif Ali Zardari who addressed a formal letter to the Speaker under the Constitution to form a Parliamentary Committee and initiate the process of Constitutional Amendment. The Amendment was made with the consensus of all political parties and all provinces. To claim credit for the Amendment the Minister Inter Provincial Coordination has vainly tried to distort history and is highly disappointing, he said.
The 18th Amendment gave autonomy to the provinces, gave rights to them over mineral wealth, gave identity to the people of Khyber Pakhtunkhwa and ensured award the NFC Award that cannot be altered to the disadvantage of the provinces, he said.
Mian Raza Rabbani said that the Minister for Inter Provincial Coordination herself belongs to Sindh and she should have asked the federal government, of which she was now a part, to respect the rights of Sindh as guaranteed by the 18th Amendment.
She should have raised voice against the takeover by federal government of the three major state of the art hospitals in the province which belong to the province, he said.
As Minster for Inter Provincial Coordination she should have set up the Secretariat of the Council of Common Interest (CII) to institutionalize the working the Council for the rights of the provinces, the former Chairman Senate said. She should have raised her voice against depriving Sindh of its rights over oil and gas produced in the provinces guaranteed to it under the 18th Amendment, he said.
"The daughter of the Information Minister of Ziaul Haq is unhappy with the provincial autonomy given by the 18th Amendment, Mian Raza Rabbani said. Whether someone is happy or not, the 18th Amendment is the collective voice and will of the people of Pakistan and cannot be undone," he said.