Queen Elizabeth's relationships with granddaughters-in-law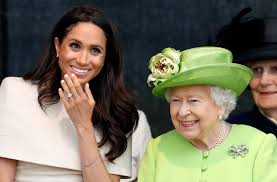 London: Details are emerging on Queen Elizabeth II's differing relationships with granddaughters-in-law Meghan Markle and Kate Middleton.
Royal writer Ingrid Seward — an expert on the Queen — said that Her Majesty "doesn't have an intimate relationship" with Kate but that Meghan "makes her laugh."
"The Queen admires Kate tremendously but does not have an intimate relationship with her as they don't have much in common," Seward said. "I think the Queen and Kate have a more serious relationship as obviously Kate holds all the Queen's hope for the future and she would not want to do anything to upset that."
"I can't see what she would have in common with Kate apart from her royal duties," she added of the 93-year-old monarch. "The common bond with Kate would be her children and I can't imagine the Queen spending too much time talking about them; she is a very shy woman, which is why a common subject like horses is so helpful."
On the contrary, Queen Elizabeth and Meghan Markle "have a love of dogs in common and Meghan knows how to make her laugh." She has also been sure to make sure that the former "Suits" actress feels comfortable and accepted by her new family.
"With Meghan she would tread very carefully and do her best to make her feel at home," Seward added.
"The Queen has an acerbic wit and of course is an excellent mimic so she can be very entertaining," the royal author said. "But she never forgets she is Queen even with her grandchildren."
Seward's claims about the Queen of England's relationships with the women that her grandsons chose to marry come half a year after the two duchesses reportedly cleared the air at her Sandringham estate during the Christmas holidays.
Queen Elizabeth had reportedly "reached her limit with all the drama" surrounding Kate and Meghan, who had been rumored to be feuding behind the scenes and "desperately wanted Meghan and Kate to make up and she got her wish."
Earlier this year, the Duchess of Cambridge made her first ever solo outing with Queen Elizabeth, eight years after marrying into the royal family. Her outing came eight months after Meghan made her first solo outing with the Queen — one month after her royal wedding.