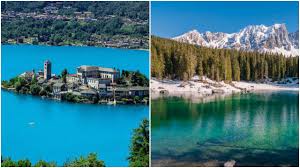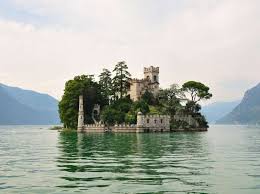 Rome: While Lake Como has become a popular destination in the tourist realm, Italy is home to another magnificent lake where you can enjoy beautiful scenery with far less crowds.
Nestled in between Lake Como and Lake Garda is Lake Iseo. Surrounded by dense woodlands and soaring peaks, the lake remains sheltered from the naked eye, and is the least known of Italy's Lombard Lakes.
The hidden gem is an awe-striking sight to behold, with an enormous mountain that shoots straight out of its waters and an array of activities that include everything from touring vineyards to spending the afternoon enjoying fresh sardines in the middle of the ocean.
We've put together a selection of images that showcase just what makes the lake a gem worth visiting, especially before other tourists start to catch on.
The lake is located in Lombardy, which is in northern Italy, and sits near the cities of Brescia and Bergamo, almost equally divided between the two provinces.
The lake is a playground for outdoor enthusiasts, with a variety of parks and nature reserves that you can explore.
These range from the Fossil Lakes Park, where you can observe fascinating rock formations created 800,000 years ago to the Tinazzo Gorge Park, where you'll be greeted to terraced meadows lined with olive trees and roe deer, badgers, and a variety of bird species that take to the skies here.
You'll also find a variety of water activities you can participate in, including canyoning, canoeing, kayaking, rowing, diving, and surfing.
Meanwhile, the wind that blows from the surrounding valleys makes the ideal environment to engage in kayaking or windsurfing.
When it's time to cool down, don't be afraid to hop in the calm waters of the lake, all of which are open to swimmers.
Surrounding the lake and within the islands that dot its terrain, you'll also find a selection of beaches and shores to soak up the sun, while the sheer cliffs and rock faces that surround the lake also make the location ideal for mountain climbers.
Scuba divers are also invited to discover the many species of fish live in the lake's waters.
One of the lake's most notable locations is the island of Monte Isola, which is the largest lake island in Europe at close to 5 square kilometers.
The wooded mountain rises out of the lake, providing a lush island lined with chestnut groves and a quaint fishing village you can wander through as you make your way up cobblestone streets winding towards the mountains.
For history buffs and artists, the lake is also dotted with churches, sanctuaries, castles, and museums to visit.
There are 8 different museums, over 100 churches and religious institutions, 38 different historic buildings, 8 archeological sites, and 16 different cultural trails that lead you into charming towns.
The lake is also home to many towns, ranging from those that date back to the medieval era to the sleepy fishing villages where you can enjoy succulently fresh seafood selections.
As you walk through cobblestone streets and ancient fortresses, you'll find yourself transported back in time.