Pakistan, Russia agree to enhance ties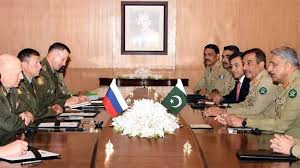 Islamabad: Pakistan and Russia Tuesday agreed to further enhance and expand mutual cooperation and defence ties between the two countries.
This understanding reached during a meeting between Air Chief Marshal Mujahid Anwar Khan and Commander-in-Chief Russian Ground Forces General Oleg Salyukov in Islamabad.
Various matters pertaining to regional security and bilateral relations came under discussion during the meeting.
Russian Commander paid homage to the martyrs of Pakistan Air Force by laying floral wreath on Martyrs' Monument.