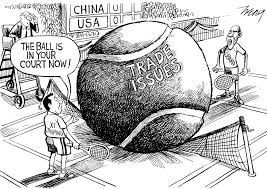 Beijing: As Chinese President Xi Jinping and his US counterpart, Donald Trump, met last week in Osaka, Japan, the world has seen encouraging signals that trade issues between the two countries can be solved based on equality and mutual respect.
The two leaders agreed to restart economic and trade consultations, while the US side said not to add new tariffs on Chinese exports.
By reaching the important consensus, the meeting has injected positive energy to the international community and the global market.
As the world's two largest economies, China and the United States share common interests and enjoy enormous potential to cooperate in various fields.
Since the two countries established diplomatic ties 40 years ago, their economic and trade cooperation has seen remarkable development. The trade in goods between the two countries surged by 252 times from 1979 to 2018.
It is natural that there are divergences between the two countries. However, it should not be ignored that the economic and trade cooperation has significantly benefited both countries, as well as the whole world.
Cooperation is the only right choice for the two countries. Only by strengthening mutual trust, promoting cooperation and managing differences, can the two countries address their trade issues.
To push forward their negotiations and reach a deal between the two countries, it is an important precondition that the talks must be based on equality and mutual respect.
The deal must be mutually beneficial. If one side forces the other side into an unfair deal, the negotiations will not go anywhere.
In addition, the core interests and major concerns of both countries must be respected. China will unswervingly safeguard its core interests on issues concerning its sovereignty and dignity.
Admittedly, trade frictions between China and the United States will not be solved overnight. However, as long as there are resolve, sincerity and actions, a mutually acceptable solution will eventually be found.
Next, the consensus reached by the two leaders should be implemented in the trade consultations. Based on the cornerstone of equality and mutual respect, the two sides' economic and trade ties are expected to be back on track.