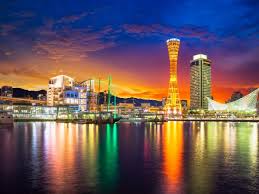 Tokyo: The tugboat nosing towards my porthole looks like a thick-lipped, curious grouper. Its chin drips with a macramé-like rope netting to protect the hull of my ship, Costa neoRomantica, from the bump and growl of the tug's efforts to push us gently in to Keelung port.
Taiwan is the wildcard destination on our cruise of Japanese ports. Here, we will travel by tour bus through lush subtropical forest, climbing to the former goldmining village of Chiufen (once a muddy metropolis, now a mined-out, marvellous village), where we will drink tea in enchanting teahouses and try every taste sensation its teeming laneways have to offer.
Asia is experiencing a cruising boom. In 2008-2009, the Costa line (one of 10 companies trading under the Carnival insignia) had five ships plying South American routes. Now Argentina and Brazil see the golden funnels of only one, maybe two, Costa vessels each year, while the company has expanded its fleet sailing to Singapore, Malaysia, Thailand, Taiwan and South Korea and circumnavigating Japan to four. Its Asian armada includes the 5700-passenger Costa Venezia, which features an on-board scaled replica of Piazza San Marco. Coming soon is the giant LNG-fuelled 6000-plus-passenger Costa Smeralda, which will have its maiden voyages in the Mediterranean in November before parting the South Asian seas.
Our experience of "Italy at Sea", as Costa terms itself, is on Costa neoRomantica, which can accommodate a comparatively cosy 1800 people. Its hotel director, Benedetto Minuto, describes the ship's design inspiration as a bomboniere — the gift from a marrying couple to family and friends at their wedding. Minuto calls it "a small surprise".
A wedding is an apt metaphor for the demographic and the vibe on board for this eight-day, six-port odyssey. At least 90 per cent of my fellow passengers are Japanese, and there are many gracious grandparents among them. Several are travelling with their adult children and the next generation of well-behaved kids. The groups of friends that gather at the ship's railing to farewell Tokyo harbour to the accompaniment of a brass band onshore are animated in their discussions, relaxed in attitude. Dotted among them are glamorous Russians, jocular Serbs, stylish Brazilians, cheerful Swedes and optimistic Australians.
As freighters of all sorts swarm on either side of us and flights from Haneda airport ascend overhead, there's a festive feel that won't wane in days to come. Captain Federico Sia has changed our itinerary due to a force majeure — rough weather on the radar. To minimise churn, he's postponed our visit to the port of Kochi until our return journey, enabling neoRomantica to take a little shelter in the straits at the tail end of Japan while the storm blows over.
On the lido (pool) decks, the ship's art deco-like curves provide viewing platforms. There's a pretty nautical bar and sculpted windbreaks for those already stretched out on lounges, or tossing hoops over witches' hats; the fun and games have begun. Over the next few days, passengers participate with delight and friendly competition in everything from cha-cha to table tennis to lively quiz sessions.
I slip back to my wood-panelled cabin, with its cleverly designed storage compartments, and an alluring feature that is increasingly rare in ocean-going ships — a great big, round porthole. Costa neoRomantica, built in 1993, refurbished in 2012 and lovingly maintained, feels like a soon-to-be-bygone class of ship.
Italian culture and design are at the heart of neoRomantica. The ship's interiors are ornate but, like well-applied bling, they imbue passengers with a certain star quality. There's the green malachite, dark polished wood, deco detail, pale velvet lounge seating and glass-icicle ceiling of the Grand Bar; the sparkling bevelled mirrors and white-on-white scheme of La Fiorentina Steakhouse; the deep maroon walls, rose-pink, fringed lamp shades and sunburst mirrors in Casanova restaurant.
The ship's gangway is the conduit to other experiences. Japan's cities, islands and regions are culturally diverse; every port has a different flavour, fascinating history and unique attractions. We are given five to seven hours in each. Allowing time for disembarkation and reboarding as well, this is enough for just a taste of each destination. In Kobe we manage a walking tour of Kitano, the historic enclave of European settlement, plus a wander around Meriken Park, a meal of rapidly tossed tender teppanyaki of Kobe beef, a lick of matcha ice-cream, and an elevator ride at dusk to the top of the port tower for a twinkling view of the harbour, city and surrounding mountains.
The subtropical island of Miyako is sparsely inhabited compared with other busy ports and cities on our route. Beaches of white sand slip softly into turquoise shallows. The concrete houses, bastions against typhoon and tsunami, all have wetsuits draped over their walls and washing lines. Pineapples, mangoes, sugar cane and sea salt are harvested here. We visit a salt "factory" selling beauty and culinary products; the gloriously far-seeing cape of Nishi-Hennazaki where blue butterflies hover lazily over rampant vines and shrubs; and the subsea aquarium, Miyakojima Kaichu Park, where brilliantly varied tropical fish look curiously in on us from their natural habitat.
Sailing days allow you to explore the rhythms and possibilities of shipboard life. On one of these, I raise the blind on my porthole to see the dipping and curling of sparkling navy-blue seas waving by. It's the perfect opportunity to spend the day at the exclusive, adults-only Lido Montecarlo haven, with its luxurious canopied sunbeds and spa pool overlooking the ship's wake. In between sunny takes I can polish up my samba skills in the lounge and joust with the Japanese in a quiz or two. Or perhaps I'll take that behind the-scenes tour of the ship's operations: the bridge, the crew uniform store and tailor, the laundry, main galley and upholstery workshop.
NeoRomantica's extensive Samsara Spa is another great place to indulge. Sit in one of the two bubbling thalassotherapy pools overlooking the gym and ship's prow while having your shoulders gently pummelled by water pouring down. In one of two steam rooms I gradually melt against the green-blue shimmer of mosaic tiles. An ice room offers a cool refresher, and a modern take on the ancient Roman tepidarium has contoured heated lounges that release any remaining knots.
There' a menu of soothing massages and smoothing body treatments to choose from, or let the ship's beauty and hair therapists put a gloss on skin, hair and nails. Request an up-do for Gala night or a pearlescent polish for the evening designated dress code White.
At night, neoRomantica becomes a floating, multi-stage dance and concert venue. Post spa and frocked up, I'm caught on the musical stairs between Decks 8 and 9, and although the classical repertoire of stringfellows Duo Allegro is uplifting, I opt for the danceable mix of singer and piano player Sepwindi emanating from sophisticated wine bar Enoteca Verona. Meanwhile, the ship's Latin dancers are wowing and then leading the crowd in the Grand Bar Piazza Italia, and sometime around 11pm the disco starts to warm up in Nightclub Tango.
On the sunny morning my porthole hones in on Yokohama, where the industrial scenery is replaced by an eclectic city skyline and the architectural brilliance of Osanbashi passenger terminal, I'm ready to pack up my party dresses and return to Earth.
One of Japan's most vibrant harbour cities, Yokohama is celebrating its 160th year as an international trading port, and the baseball stadium is roaring with mid-season fervour. I look back as often as I can towards the golden funnels of the moored neoRomantica, but by mid-afternoon they are gone, on their way to Kobe, Vladivostok (wildcard), Hakodate and back to Tokyo, where my journey began.