PTI doing politics against opposition: Bilawal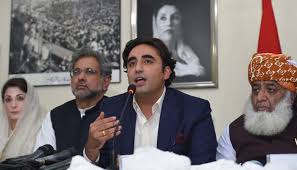 Peshawar: Pakistan People's Party (PPP) chairman Bilawal Bhutto Zardari has criticized the current government saying that Tehrik-e-Insaf (PTI)-led government is doing politics against Opposition rather than for the country.
Bilawal blamed the government saying that they are making attempts to end the 18th amendment. "Throw the entire PPP and my family into jail but I won't change my stance against freedom of speech", he added.
Addressing the 'Meet the Press' at the Peshawar Press Club, he expressed that former PM Benazir Bhutto struggled for 30 years to restore the 1973 constitution in its original state whereas they will do everything to protect the ideology of 18th amendment with her vision.
PPP chairman asserted that Zulfiqar Ali Bhutto gave most of the part to the tribal areas. "Today, not only to take part in NFC but we are also ready to fight for their rights", he maintained. Government wants to make all provinces fight over the NFC, he added.
Bilawal said that the opposition is united to change the Senate chairman. "The selected PM does not have ability to run the government", he continued.
PPP chairman said that whatever is going on in today's government, it is not democracy. He further said that they are just compromising on the human rights as Parliament holds no power today. Pakistan have to struggle for the democracy, he expressed.