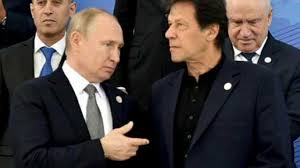 Moscow: Russian President Vladimir Putin has invited Prime Minister Imran Khan to attend the Eastern Economic Forum (EEF) scheduled to be held from September 4-6 in Vladivostok.
Indian Prime Minister Narendra Modi will also participate in the economic forum.
Eastern Economic Forum is an international forum held each year since 2015 in September, at Far Eastern Federal University in Vladivostok, Russia, for the purpose of encouraging foreign investment in the Russian Far East. The Russian president and the Japanese premier have attended this forum since its beginning.
Far East Economic Forum is sponsored by the organizing committee appointed by Roscongress, an association of the Russian Government, which also sponsors other international forums, such as St. Petersburg International Economic Forum.
Besides, the EEF serves as a platform for the discussion of key issues in the world economy, regional integration, and the development of new industrial and technological sectors, as well as of the global challenges facing Russia and other nations.
PM Khan and the Russian President Putin met last month at the SCO summit in China.