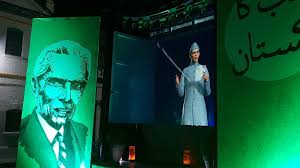 Lahore: On 23rd March 1940, Muhammad Ali Jinnah gave hope of a new and peaceful homeland to hundreds and thousands of people, at Minar-e-Pakistan.
After seven decades, on 6th July 2019, the leader of the nation came back to Lahore to talk about his country with his nation.
Following successful screenings in Kasur, Swat, and Karachi, Lahore welcomed the hologram of Muhammad Ali Jinnah. The City of Gardens also known for Bagh-e-Jinnah and the iconic Quaid-e-Azam Library speaks volumes of Jinnah's messages of love, tolerance, peace, coexistence, and harmony.
The hologram was screened at Minar-e-Pakistan and Delhi Gate, Wazir Khan Mosque with hundreds and thousands of people from diverse socioeconomic backgrounds. There were people of different age-groups, religious backgrounds, and genders in the audience, which brought diversity to the event.
Prior to the screening, young artists and musicians enthralled the audience by the tunes such as Dil Dil Pakistan and other national songs. The impact of the holographic screening was much wider than before, driving home the historical value of Jinnah's speeches and conferences that he held in Lahore.
Despite the hot summer evening, a considerable footfall of youth, children, and adults was witnessed. One of the local university students expressed, "All of us know that Minar-e-Pakistan holds a special value in our hearts because the idea of Pakistan was formally unveiled here by our Quaid. Today, it made a huge impact on us because we heard him and felt his words more than ever. It's the same space where he addressed the nation 72 years ago." – Naveed Rashid, a university student attending the holographic screening at Minar-e-Pakistan.
The speech is a collection of various historical speeches of Jinnah when he addressed the nation during and after the creation of Pakistan. The purpose of the holographic speech was to remind youth and reawaken the values of brotherhood, tolerance, and unity that we as a nation seem to have forgotten. Since Jinnah is a figure everyone looks up to, his messages have played an integral part in the strengthening of our country.
Prior to the holographic screenings, there were also workshops on countering violent extremism with youth, men, and women. The purpose of the workshops was to engage the participants over discussions on countering violent extremism, social cohesion, peacebuilding, and women empowerment.
"Jinnah is one person all of us look up to as the father of the nation. It is truly overwhelming to learn more about him other than what we're taught in our textbooks. He gave a voice to Christians, Hindus, women, children, youth, etc." said Maryam Fatima, a school girl attending Jinnah's hologram screening.
HIVE Pakistan- a social development company believes that the youth of Pakistan are forgetting the vision of Pakistan as imagined by Jinnah and, therefore launched the campaign titled AIK – Better Together to reinvigorate a sense of social cohesion amongst Pakistanis beyond religious divides. For this reason, HIVE Pakistan researched over a hundred speeches of Jinnah and created a master-speech using his own words.
The team of AIK – Better Together has already organised 13 screenings in three cities and intends to take a tour to different cities of Pakistan. It isn't only specific to open market and community places but in fact, institutions or organisations can also contact to have a screening in their area
"My message to you all is of hope, courage, and confidence. Let us mobilise all our resources in a systematic and an organised way and tackle the grave issues that confront us with grim determination and discipline worthy of a great nation," as shared by Muhammad Ali Jinnah.