Rehman Malik says his meeting with Sanjrani only to discuss house business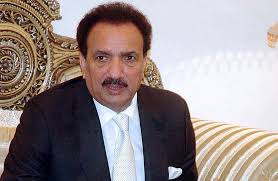 Islamabad: Pakistan People's Party (PPP) leader Senator Rehman Malik has said that his meeting with Senate chairman Sadiq Sanjrani had nothing to do with the ongoing discussion about replacing the senate chief.
In a statement, he said the meeting was aimed at discussing the senate house business. "If some people want to make other conclusions, I can't stop them. My meeting had nothing to do with the replacement of the senate chairman," he said.
Senator Malik said he was committed to the decisions taken by the PPP. "As a worker of the PPP, I am bound by the party decisions," he added.
The joint opposition has decided to convene a meeting of the senators on Tuesday to discuss replacing the senate chairman.
The resolution with regard to the senate chairman will be submitted after signatures from the opposition senators.
Opposition parties' Rehbar Committee will decide the candidate in its session on July 11.