Opposition submits resolution against Sadiq Sanjrani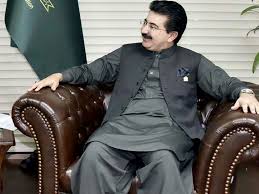 Islamabad: The opposition parties in the Senate on Tuesday submitted a resolution for de-seating Senate Chairman Sadiq Sanjrani by bringing a no-confidence motion against him.
The resolution signed by 38 senators has been submitted to the secretary of the Senate. Moreover, opposition members have submitted a requisition for convening a session of the Senate.
The resolution was submitted after a meeting between members of the opposition in the chamber of Leader of the Opposition in the Senate Raja Zafarul Haq, who chaired the meeting.
Earlier, senators of the opposition parties convened a meeting in the chamber of Leader of the Opposition in the Senate Raja Zafarul Haqat, who chaired the meeting, to sign the resolution. However, two senators of the Jamat-e-Islami (JI) remained absent during the meeting.
The meeting was attended by Senators Sherry Rehman, Sassui Palijo, Ashok Kumar, Pervez Rashid, Musadiq Malik, Mushahidullah Khan and Usman Kakar among others.
According to details, the joint opposition parties have the required majority in the Senate to de-seat the senate chairman – as in the 104-member house, from the current 103 members; the support of only 53 senators is required for the senate chairmanship. The opposition parties collectively have the support of 65 senators.
Numerically, Pakistan Muslim League-Nawaz (PML-N) has 31 senators, Pakistan Peoples Party (PPP) has 21 senators, National Party (NP) has five, Jamiat Ulema-e-Islam-Fazl (JUI-F) has four, PKMAP has four and Awami National Party (ANP) has one.
In accordance with the rules of the House, the no-confidence motion with the signatures of at least one-fourth of the total number of senators will be submitted in the Senate.
According to the Rules of the Procedure, the meeting of the Senate can be called after seven days for voting on the resolution.
After the voting on the no-confidence motion, the incumbent senate chairman will leave his position, and the Senate Secretariat will issue a new schedule for voting of the new chairman.
Yesterday, the Leader of the Opposition in the Senate and PML-N senior politician Raja Zafarul Haq and NP's Hasil Bizenjo held a meeting to analyse the updated state of political affairs to bring a no-confidence motion against the senate chairman.
After the meeting yesterday, both politicians spoke to the media, and stated that the Rehbar Committee, in its next meeting on July 11, would decide about its joint nominee from the opposition for the Senate chairmanship.
They said no one has recommended their names for the chairmanship so far.