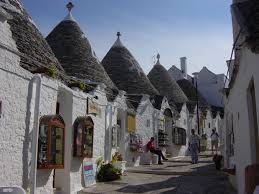 Rome: Drive around the Itria Valley in southeastern Italy and you'll discover houses straight out of a fairy tale. Of diminutive size and topped by conical roofs made of stacked limestone, trulli—the traditional structures of Puglia—look like beehives from another planet. Found on almost every country road in the valley, trulli are not idle curiosities; they are actively used as homes, farmsteads, guesthouses, and more.
They're not hard to find. Several thousand trulli are visible in the Itria Valley, with more than 1,500 concentrated in Alberobello, a town located some 40 miles south of the port city Bari. Some trulli of Alberobello date to the 14th century; this architectural ensemble was inscribed on the UNESCO World Heritage list in 1996.
People began to settle in the region of Alberobello around a thousand years ago, and the construction of trulli in the area most likely began at that time. But the origin of their shape is much older; some sources say the idea arrived with the Greeks when they colonized southern Italy between the 8th and 5th century B.C. Tholos, the Greek funeral chambers, had similarly domed roofs; the ancient Greek word trullos means cupola.
Built in the dry-stone tradition—a mortarless construction technique used in the Mediterranean basin for several thousand years—Puglia's trulli have whitewashed walls and corbelled roofs. Many have pinnacoli on their rooftops; these knob-like pinnacles vary in shape and may have helped the trulleros, or trulli builders, to identify their work. Several trulli feature symbols such as crosses or evil eyes—some astrological, others Christian or pagan—painted in white on their roofs. Although a curiosity for many, these markings aren't original, according to Dr. Annunziata Berrino, professor of contemporary history at the University of Naples and author of a book on the subject. "They've been invented [over time] to satisfy a visitor's curiosity," she says.
Trulli pepper the countryside in the region, but they aren't the only sights. "A slow, sustainable way to see Valle d'Itria is a biking or hiking experience," says Alessandro Perrone, who's been leading tours in the Itria Valley for more than a decade.
"You'll enjoy rolling hills, [whiffs] of the Mediterranean with its thyme, wild mint, and myrtle aromas, and you can stop along the way in vineyards," he says.
Three must-sees beyond Alberobello: the neighboring Locorotondo, known for its circular structure; Cisternino, one of the valley's most picturesque towns; and Ostuni, known as the "white city," thanks to its picturesque whitewashed buildings. Don't forget to look miles of dry stone walls; the ancient technique (and art) of stacking stones in Italy and other European nations was recently inscribed on UNESCO's Representative List of the Intangible Cultural Heritage of Humanity.