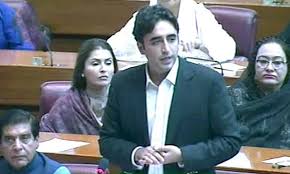 Islamabad: Pakistan Peoples' Party (PPP) chairman Bilawal Bhutto Zardari on Friday decided to celebrate Eidul Azha in Muzafarabad.
The decision came, just days after India striped occupied Kashmir of its special status by revoking Article 370 and 35A, to show solidarity with the Kashmiris.
Bilawal also decided to meet the leadership of All Pakistan Hurriyet Conference.
Earlier on August 6, amid escalating tension in occupied Kashmir following deployment of tens of thousands
of additional troops, the Indian government ended special status of the valley while scrapping articles 35A
and 370 of the Constitution.
The revocation of the articles has allowed other non-Muslim Indian citizens to buy land in the valley while a
separate legislative assembly will be established there for its own laws.
On Wednesday, Joint Session of the Parliament passed a resolution unanimously condemning illegal,
unilateral, reckless and coercive attempt by India to alter the disputed status of Indian occupied Jammu and
Kashmir, as enshrined in the UNSC resolutions, as well as the regressive measures to change Jammu and
Kashmir's demographic composition through repeal and revocation of article 35-A of the Indian constitution.
The resolution condemned the deployment of additional troops in Indian occupied Kashmir and Indian firing and shelling on the line of control and use of cluster bombs by Indian forces in Azad Kashmir.
Following India's decision to end special status of Occupied Kashmir, the National Security Committee
(NSC) on Wednesday decided to downgrade diplomatic relations and suspend bilateral trade with India.