Rehman Malik urges UN, Trump to help stop bloodshed in Kashmir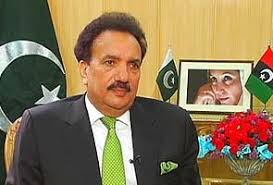 Islamabad: Senior PPP leader Senator Rehman Malik on Tuesday urged UN & US President Donald Trump to take notice of use of gunship by Indian brutal Indian Forces against armless Kashmiris.
In a series of tweets wherein he has posted a video of gunship attack on Kashmiris in which dozens of innocent people including men, women and children were killed. He said that the world community particularly US President Donald Trump and Secretary General United Nations and other human rights bodies take notice of Indian gunship attack on innocent Kashmiris who are demanding their legitimate right of self determination as per UNSC resolutions.
He tweets "Indian Army have been using Gunship helicopters to attack villages in Indian Occupied Kashmir (IoK) and there is complete communication blackout imposed throughout the valley but brave Kashmiris are managing to send the videos of Indian Forces brutalities." He said that the gunship attack on armless and oppressed Kashmiris has killed dozens of men, women and children.
Senator Rehman Malik said that in such a horrible situation where is the US President Donald Trump who had offered mediation in Kashmir issue adding why is United Nations a silent spectator of human rights violations in Kashmir?
He appealed the international media and social media activists to highlight Indian Forces brutalities that the
ugly face of Indian Prime Minister Modi could be exposed before the world.