NAB didn't allow meeting with Zardari: Aseefa Bhutto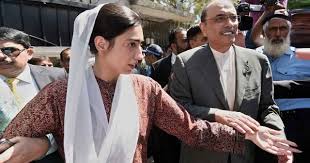 Islamabad: Pakistan People's Party (PPP) leader Aseefa Bhutto Zardari on Wednesday said the National Accountability Bureau (NAB) officials did not let her meet her detained farther Asif Ali Zardari.
"NAB has refused to let me in to see my father. 45 minutes of going from gate to gate. Disregarding the law, all norms of justice and decency. Every freedom is compromised this Independence Day," she tweeted.
She added: "Another violation of law and human rights. Despite having a court order to visit my father in NAB custody, NAB has refused visitation at the last minute. Standing outside NAB with the court order."
Her sister, Bakhtawar Bhutto Zardari said accountability should not be made a mockery of justice. "We kicked out a dictator why is Pakistan still living with his remains #AbolishNAB. Accountability is about fair trials not mockery of justice by a body that is never/has never been answerable," she tweeted.
In another tweet she said: "NAB refused entry in contempt of court. Who will hold NAB accountable? From deaths in their custody to tax money spent. Will say it again, NAB was created by a runaway dictator & now utilised by our wannabe dictator to lock up all opposition. Continuously breaking laws."