Aseefa Bhutto Zardari visits Faryal Talpur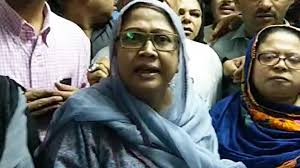 Islamabad: Aseefa Bhutto Zardari visited Ms. Faryal Tapur at Adiala Jail while the latter's family members and lawyers accompanied her. Provincial Minister Sindh Sohail Anwar Siyal, Zia-ul-Hassan Lanjar, Khan Bahadur Bhatti and Ghulam Mustafa Laghari were also present on the occasion.
Lawyer Zia-ul-Hassan Lanjar said that representatives elected by the public are suffering in jails and are deprived of basic facilities.
He said that Faryal Talpur is a target of political revenge and that her production orders have been approved but are being ignored which proves that the there is a personal vendetta that is being carried out against the PPP leadership.
He concluded by saying that the fight against injustice will continue in the courts and that these baseless accusations will come to an end.
Meanwhile, Senator Mustafa Nawaz Khokhar, Chairman of the Standing Committee for Human Rights in the Senate, has demanded a report of Indian atrocities in Indian Occupied Kashmir from the Ministry of Foreign Affairs as well as the Ministry of Human Rights by 12 December.
He asked as to what is and has been done regarding this matter and what international platforms have been approached about the human rights violations in Kashmir. He said that the people of Kashmir are suffering and their voices demand to be heard.