Imran Khan should follow Zulfikar Ali Bhutto on Kashmir: PPP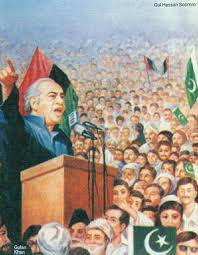 Islamabad: Pakistan Peoples Party (PPP) has advised Prime Minister Imran Khan to follow the policies of Zulfikar Ali Bhutto on the Kashmir issue.
Secretary Information PPP Dr. Nafisa Shah, addressing a press conference, at PPP media office Islamabad said that Imran Khan should forge unity in the country on Kashmir issue before going to address United Nations General Assembly.
Imran Khan went to address Kashmiri people after 40 days whereas he should have visited 40 countries during this time
and met 40 leaders of the world to highlight Kashmir cause. She was flanked by Deputy Information Secretary PPP Ms.
Palwasha Khan, Senator Rubina Khalid, Nazir Dhoki and Wasif Syed.
Dr. Shah said that the idea of article 149 (4) in Karachi is unnecessary and it is third attack on Sindh after the talk of Governor Rule and forward block.
She said that PPP was a party of federation and as long as PPP is present there cannot be any Sindhu Desh. She said that Chairman Bilawal is the symbol of democracy and federation in Pakistan.
Palwasha Khan said PM Imran Khan was collecting stones whereas the Indian Army Chief has said that he is ready to attack Azad Kashmir and waiting for the order of Indian leadership. Imran Khan claimed to have won world cup but in reality he sold Kashmir during his US visit.
Regarding joint session of Parliament she said that this session was of no credibility as former President Asif Ali Zardari was not allowed to attend the session. She asked Imran Khan when he is going to cross the LoC. She said that Shah Mehmood Qureshi is the great grandson of Shah Mehmood I, who had conspired against freedom fighters during British Raj.
Answering a question she also said that the situation is deteriorating fast and who knows PPP takes lead before Maulana Fazlur Rehman and send this puppet Prime Minister and his puppet government packing.
Senator Rubina Khalid said that article 149 (4) should be imposed in KP instead of Karachi where the law and order situation is worst in the country. KP is suffering for last six years under PTI government. The federal government cannot run the capital Islamabad and wants to run Karachi which is laughable.