Ambassador Stefano Pontecorvo praises Italian Archeological Mission on landmark temple discovery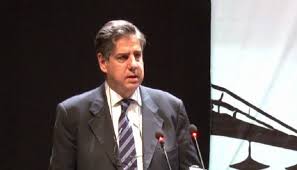 Islamabad: Italy's ambassador to Pakistan Stefano Pontecorvo has praised the Italian Archeological Mission on lauded landmark discovery of a Turki Shahi temple in Swat.
"The Italian Archeological Mission has made a landmark discovery of a Turki Shahi temple in Swat attracting archaeologists worldwide. Enriching #Cultural #heritage and literally adding chapters to history books," he tweeted. He said Italy was contributing in Pakistan is every sector being a friendly nation.
The Turk Shahi were a Turkic dynasty that ruled from Kabul and Kapisa in the 7th to 9th centuries. They replaced the Nezak – the last dynasty of Bactrian rulers with origins among the Xwn (Xionite) or Huna peoples – who are sometimes also referred to as "Huns", under the controversial belief that they were linked to Huns that invaded Eastern Europe during a similar period.
Kabulistan was the heartland of the Turk Shahi domain, which at times included Zabulistan and Gandhara. During their rule, the Turk Shahi were an obstacle to the eastward expansion of the Abbasid Caliphate.
The last Shahi ruler of Kabul, Lagaturman, was deposed by a Brahmin minister in 850, signaling the end of the Buddhist Turk Shahi dynasty, and the beginning of the Hindu Shahi dynasty of Kabul.
Earlier, archaeologists and historians discovered a unique Turki Shahi period temple, built in the 7th century, on the top of Ghwandai mount at Bazira in Barikot Swat.
The experts claimed that the discovery was of immense importance for lovers of history, archaeology and cultural heritage across the globe. The temple was discovered by the Italian Archaeological Mission in Pakistan in collaboration with provincial directorate of archaeology and local students.
Director Italian Archaeological Mission Dr Luca Maria Olivieri, who is heading the team, said that there were only few examples of cultic buildings of the Shahi period in Pakistan. The recent discovery could be considered extremely important for the understanding of a crucial historical phase in late Gandhara, he added.
"The temple was actually built during the Turki Shahi period around 700 AD. At that time Uddiyana (Swat) was ruled by a king known as From Kesar (King 'Ceasar of Rome'). He was the son of Tegin Shah Khurasan, a well-known Turki Shahi king from Kabul," said Dr Luca.
He said that the temple was re-established and maintained till the Hindu Shahi time (ca 1000 AD). The temple is also mentioned in a Hindu Shahi inscription, found in Barikot in the late 19th century and conserved in Lahore Museum.
"It was very crucial time as it was the end of ancient time and the last historical macro event before the arrival of Islam, which marks the beginning of medieval time in this part of South Asia," he said.