Nawaz Sharif discharged from hospital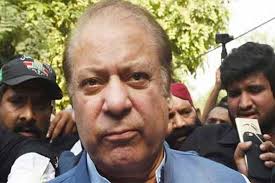 Lahore: Former prime minister Nawaz Sharif has been discharged from the Services Hospital where he was under treatment for past two weeks, according to hospital sources.
According to a private television channel report, a discharge slip was made with the consent of the Pakistan Muslim League-Nawaz (PML-N) president. However, he is waiting for his Maryam Nawaz's robkar.
According to hospital sources, Nawaz Sharif is still in the VVIP room after being discharged. In this regard, security is on high alert and all arrangements have been completed.
Earlier, an ambulance reached Services Hospital to shift Nawaz Sharif to Sharif Medical City Hospital whereas his platelets count has dropped to 30,000.
The medical board has allowed Pakistan Muslim League-Nawaz (PML-N) supremo to walk and exercise for a limited time.
On the other hand, medical board at Services Hospital on Tuesday has suggested to carry out genetic test of ex-prime minister Nawaz Sharif to diagnose his illness.
According to details, the former premier is under-treatment at Services Hospital for over 14 days.
Sources said that Nawaz Sharif's genetic test can also be performed in Pakistan, however, the reports will be finalized within seven days after the test date.
They further said Lahore's Children Hospital officially sends samples to Germany for genetic test twice a year.
On Nov 4, ex-PM and Pakistan Muslim league-Nawaz (PML-N) supremo Nawaz Sharif's platelets had dropped to around 40,000.
The medical board taking care of the erstwhile premier's health had examined him and conducted further tests including the complete blood count (CBC).
Earlier, more than 1.5 million rupees has been already spent in the last 14 days on the treatment of former premier Nawaz Sharif who is admitted in Services Hospital, according to sources.