JUI-F rejects Imran Khan's offer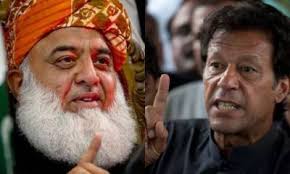 Islamabad: Jamiat Ulema-e Islam Fazl (JUI-F) leader Maulana Abdul Ghafoor Haidri has rejected the offer of PM Imran Khan saying he should keep his offer in his pocket.
Addressing to media after JUI-F's meeting, Haidri said "our workers have already made the arrangements. He said rain is a blessing of God but these rulers are a curse on people."
It is worth mentioning here that PM Imran Khan on Wednesday has taken notice of difficulties being faced by the protesters of Jamiat Ulema-e-Islam-Fazl's (JUI-F) anti-government Azadi March due to rain and changing weather conditions.
In a post on social-networking website Twitter, the premier has directed the chairman of Capital Development Authority (CDA) to immediately visit the area and provide all the facilities to the protesters, who are holding sit-in on Kashmir Highway in federal capital, Islamabad.
JUI-F's Haidri said the March would continue till the resignation of PM Imran. He said they offered Friday prayers at the same place last week and they will also offer coming Friday prayer here.
The tweet stated, "I have directed the CDA Chairman to immediately visit the dharna site to assess what relief and assistance can be provided to the dharna participants with the onset of rain and changing weather conditions."
Earlier on late Tuesday night, the participants of the Azadi March faced severe difficulties following a spell of rainfall with the strong wind in the federal capital which changed the weather condition to cold.
The JUI-F activists were seen finding a safe location amid the rainfall as their camps failed to save them from the heavy downpour and cold weather.
Ali Zaidi, the federal minister for maritime affairs, criticised the JUI-F leadership in his tweet by saying, "Rain, thunder storms, cold-wave hits islamabad tonight. The poor people at the Azadi March are suffering while their leadership enjoys the comfort of their cozy homes. Sad state of affairs!"