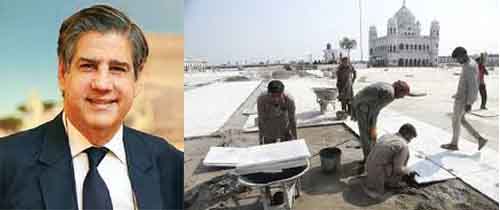 Kartarpur: Italy's Ambassador in Pakistan Stefano Pontecorvo has appreciated Pakistan on constructing the Kartarpur corridor in one year.
The envoy who attended the inauguration of the corridor by Prime Minister Imran Khan along with his wife Lidia Pontecorvo said the work on the corridor was impressive.
"It is a historic moment to witness. Impressive work done by the Pakistan government to prepare all this in one year. The work done on the site, its surroundings and the Corridor with its' facilities is amazing," he said.
Kartarpur is a town located in the Tehsil Shakargarh, Narowal District in Punjab, Pakistan. Located on the right bank of the Ravi River, it is said to have been founded by the first guru of Sikhism, Guru Nanak, where he established the first Sikh commune.
The first guru of Sikhism, Guru Nanak, founded Khartarpur in 1504 AD on the right bank of the Ravi River. The name Kartarpur means "place of God".
Here all people, irrespective of their religion or caste, lived together, representing the first 'Sikh commune'. After his travels for about 20 years, Guru Nanak settled in Kartarpur along with his family. Following his death in 1539, Hindus and Muslims both claimed him as their own, and raised mausoleums in his memory with a common wall between them.
The changing course of the Ravi River eventually washed away the mausoleums. But Guru Nanak's son saved the urn containing his ashes and reburied it on the left bank of the river, where a new habitation was formed, representing the present day Dera Baba Nanak.
At the location Guru Nanak is believed to have died, the Gurdwara Kartarpur Sahib was built. During the 1947 partition of India, the region got divided across Pakistan and India.
The Radcliffe Line awarded the Shakargarh tehsil on the right bank of the Ravi river, including Kartarpur, to Pakistan, and the Gurdaspur Tehsil on the left bank of Ravi to India.