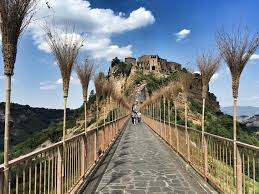 Rome: A traditional favorite, Italy also showcases off-the-beaten path adventures, Instagram-worthy food and drink, local connections and other immersive experiences that appeal to a whole new kind of traveller.
From Venice's labyrinth of scenic canals to Tuscany's rolling olive groves, the cosmopolitan capital of Rome and the sun-drenched beaches along the craggy cliffs of the Amalfi Coast, it's no surprise that Italy is a perennial favorite among travelers of all ages.
But there's far more to this storied destination than its classic draws—be it Turin's renowned chocolate production, the unrivaled fashion culture that permeates Milan, Calabria's rugged mountains or the unparalleled pizza scene in Naples—and it's these hidden gems, less-traveled destinations and unique attributes that are attracting new generations of travelers to Italy.
In fact, a wealth of research suggests that tourism is steadily rising, particularly among younger generations and their families, including millennials, Gen Z and even their children, Generation Alpha. Italy anticipates more than 82 million tourists by 2028 according to data from the World Travel & Tourism Council, and the country saw one of its most popular years of tourism in 2018, which the Italian National Institute of Statistics reported was up 74 percent from the year prior. Rome saw 29 million tourists in 2018, while Venice and Milan welcomed 12.1 million and Naples opened up to 3.7 million.
While most tourists visit in the summer months of July and August, travelers are realizing that Italy is well worth a visit any time of year, especially as younger generations seek to spend more of their time off the beaten path, in less-crowded corners of the country. And whether these travelers seek authentic opportunities to dive into local life, Instagram-worthy food pics or bragging rights to unique adventures, travel advisors can craft a multitude of itineraries throughout Italy that speak to younger travelers' mindsets and desires.
Millennials and Gen Z are increasingly driving the travel market and influencing travel trends. In fact, research by the Boston Consulting Group indicates that millennials will account for almost 50 percent of travel spending by 2020, and 88 percent of Generation Z holds considerable influence over their families' travel decisions, according to insights from Expedia Group Media Solutions.
Moreover, over half of Generation Z plans to spend more on travel in 2019 than they did in 2018, according to a survey by Criteo. And, because they make up 32 percent of the population and boast a direct spending power of $143 billion, the potential of this generation is enormous.
Meanwhile, Generation Alpha (those born after 2010) may be young, but they're still having a substantial impact on travel trends. A Northstar Research Partners study on Generation Alpha and family travel trends suggests that those age nine and below are already playing an active role in family travel inspiration, planning and trip decisions. Specifically, more than one-third of the study's respondents reported that Generation Alpha influences family trip choices, often by showing their parents and grandparents online content inspiration.
They want an iconic destination like Italy—but visited in a way that feels authentic and experiential, as opposed to touristy. That means opportunities to have a once-in-a-lifetime, cultural experience, and to do instead of just see.
The Italian government has dubbed 2019 the year of "slow tourism," as young travelers in particular are taking the time to make their way through not only major international hubs like Rome and Florence, but also less-frequented destinations like Umbria and Piedmont, as well as pristine lake regions such as Lake Como and Lake Garda.
"More and more of the younger generation is looking for curated experiences in Italy," says Courtnie Nichols, founder of TravelBash, a boutique travel company. "Today, they can visit wineries and caves, sail around the coast, get a private seating at the Vatican, learn about Italian coffee and see the Colosseum with someone whose ancestors played an integral role in its history. They can make gelato, visit the Sunken City of Baia [a submerged archeological park], go on a boat trip to the Blue Grotto in Capri or shop until they drop in Milan with a famous designer. The list keeps going."
With such a vast list of iconic and lesser-known wonders to discover, even the most determined wanderers may miss some of Italy's travel treasures without an experienced advisor to steer them in the right direction.
For younger travelers in particular, the following are a few top draws for advisors to recommend to this bourgeoning and influential market.
Italy is basically synonymous with gastronomic genius. From iconic pasta and pizza dishes to coveted ingredients like prosciutto and truffles, Italian cuisine is a world favorite for good reason. What's more, true foodies will find a wealth of regional specialties awaiting discovery.
"The cuisine in the northern and southern parts of the country are different," says Marcia Simon, principal/owner of Friendly Group Travel. "So are the wine, olive oil, capers, Limoncello, parmesan, pine nuts, pesto, prosciutto, pizza, pasta and seafood. Especially when you get out of the cities, restaurants serve local food, so it's farm-to-table without trying to be hip about it. Plus, local wines are served in carafes and are not just house wines; they're delicious."
Young generations will certainly appreciate this: The Contiki 2017 Youth Evolution Report revealed that 35 percent of Generation Z prioritizes food experiences, and 94 percent researches where to eat before they travel. They want to know about what they're going to be eating—and in Italy, where food is often locally sourced, they can.
"Prodotti km 0 is a concept that first appeared in Italy a few years ago, which refers to food that is produced, sold and eaten locally—the food that traveled zero kilometers," explains Giuseppe Careddu, the United States and Canada country manager for Alitalia. "Mainly, it refers to non-industrial fruits, vegetables, cheeses, meats, honey and other ingredients that don't go through global trade chains and, therefore, don't have high price margins or lose quality stored in international supermarkets."
Simon adds that because agriturismos (farm stays) are big in Italy, food-minded travelers can even stay on working farms where they can get to know the families running them and eat homegrown meals at low costs.
For something high-impact that doesn't require as much time as a farm stay, Nichols notes that travelers "can sign up for a cooking classes in a local restaurant with a private Michelin chef."
Most young-generation travelers are interested in going off the grid, getting outside and connecting with themselves and the natural world around them. In fact, disconnected and "deep-in-nature" experiences were part of Global Wellness Summit's 2018 Global Wellness Trends, and Expedia Group Media Solutions reports that more than half of families traveling with Generation Alpha prioritize experiences they can have outside together.
"Italy's variety of natural wonders provides all travelers with the serene setting they desire—endless beaches, lakes, mountains, the countryside," says Amy Ahlblad, partnerships manager of online booking platform Glamping Hub, which has seen a 39 percent increase in bookings for Italy over the past year. "Outdoor adventures run rampant in Italy. There is access to all kinds of activities throughout all types of terrain—hiking in the mountains, kayaking in the sea, food foraging in the forests and more. And guests can continue their outdoor adventures by staying in nature-based accommodations nearby."
There are even ways to combine unusual outdoor experiences with the food opportunities that younger travelers prize. "Wine, olive oil and culinary experiences are a huge draw in Italy—so staying in a yurt on an olive grove or a caboose on a working farm surrounded by vineyards are just a few ways for guests to have the most authentic experience possible," Ahlblad adds.
Traveling off the beaten path is not only important to younger travelers because they want to avoid crowds; it's also key because they want the chance to experience a destination like a local, and discover things a traditional traveler might not normally enjoy.
"What I have noticed is younger travelers no longer want to see the regular landmarks and tourist traps; they want to get out beyond the city center and explore like locals," says Nichols.
Simon's clients are asking about unique destinations like the Sassi di Matera cave dwellings, a UNESCO World Heritage site that still feels like a well-kept secret, as well as Cinque Terre National Park, which she says is gaining popularity due to its ocean-view hiking trails. She adds that Lake Garda is "less commercial and often less busy" than iconic Lake Como, and she's also noticing interest in bicycle tours on the coastline of Puglia.
"Americans are now discovering a new Italy," says Careddu. As travelers continue to uncover the country's hidden wonders, it's clear that Italy will hold ongoing appeal for generations to come.
As travel advisors position themselves to attract and retain younger generations of travelers, Alitalia is a valuable ally, flying millennials, Gen Z, Generation Alpha and their families to coveted destinations both in Italy and around the world. And the airline does it all while giving fliers the authentic Italian experience they crave.
Within Italy, Alitalia flies everywhere from popular tourist destinations like Milan, Rome, Florence, Naples and Palermo to less-frequented places like Catania, Ancona, Trapani, Perugia and Olbia, which is the most recent destination (and one of the most off-the-beaten-path) added for the 2019 summer season.
In fact, the Alitalia network covers 100 destinations, including 151 routes worldwide, to satiate everyone's wanderlust.
"Alitalia is the 'direct link' to Italy, and only on Alitalia are you in Italy as soon as you get on board—that's what's unique about us," says Giuseppe Careddu, United States and Canada country manager for Alitalia. Just one example of this Italian experience is Alitalia's onboard dining, which offers guests everything from Limoncello, a typical Italian liqueur, to Italian espresso and traditional, locally sourced meals.
All Magnifica-class menus have been designed in collaboration with Gambero Rosso, an authority in Italian food and wine. "The most authentic options can be savored in our Magnifica-class menus, inspired by Italian territories," Careddu says. "We have a traditional menu for those who would like to explore Italian cuisine and recipes inspired by homemade dishes."
Beyond the food, Alitalia offers guests WiFi options and an impressive array of onboard entertainment for all ages, including 100 TV programs, 100 music compilations, 80 movies, 35 kids' programs, 28 interactive games and two sports and news live channels.
While guests are waiting to board their flights, they can also have an authentic Italian experience at the Casa Alitalia lounge. "Casa Alitalia is not just somewhere to relax while waiting for your flight; rather, it's a true expression of the values and distinctive elements of Italian excellence around the world, thanks to collaborations with the best Italian brands," Careddu says. "The attention to detail and the warm Italian welcome make our guests feel as if they were in a real Italian house. The catering service is inspired by the gastronomic excellence of Italy and boasts a live cooking area where the chef cooks a selection of menus based on pasta and pizza, with vegetarian and gluten-free dishes also available."
And to make all of these experiences accessible for younger travelers, Alitalia boasts the Millemiglia Young program, for travelers from 14 to 25 years old. By joining this program, members receive up to 4,000 bonus miles, 50 percent more miles for every Alitalia flight and a 20 percent refund on the miles they spend on Alitalia award tickets.