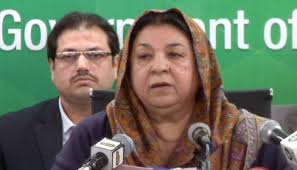 Lahore: Punjab Health Minister Dr. Yasmin Rashid said Nawaz Sharif did not undergo any treatment in six weeks as the government did not receive his latest medical reports.
Dr. Yasmin Rashid Tuesday held a press conference and raised a question that on which grounds does the former PM seek more time as he is a convict and had only been given relief by the court for treatment.
She said old and incomplete reports have been sent to Punjab government from London.
"The government has many reservations over Nawaz Sharif's picture in a restaurant that surfaced on social media on Monday. He was granted bail for six weeks which ended on December 25.
"Nawaz Sharif's lawyer submitted his medical report on December 27. A meeting of the medical board was summoned to review the report which was found to be incomplete as no fresh information was provided in it. "The former premier's physician wrote a letter in which medical details were mentioned which the board was already aware of.
"The government telephoned Dr. Adnan Khan, Nawaz Sharif's personal physician, after watching his picture in the restaurant and asked him whether such outings were a part of his treatment? "The government has not been apprised of any update regarding Nawaz Sharif's treatment."
Referring to the viral pictures of Nawaz Sharif, having tea in a restaurant in London, miss Rashid observed that how can a serious patient like him [Nawaz Sharif], can sit and have a tea in the restaurant.
"Maryam wants to fly to London to look after his ailing father, but he looks fit and having meals at the restaurants."
On January 03, an accountability court in Lahore on Friday granted an exemption to former prime minister Nawaz Sharif from appearing in the Chaudhry Sugar Mills (CSM) case after it was informed that he is unwell and undergoing treatment abroad.