Former Chinese diplomat to Pakistan debuts as new FM spokesperson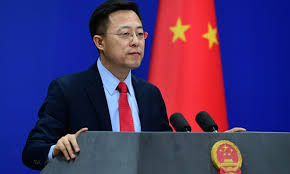 Beijing: Zhao Lijian, Deputy Director General of the Foreign Ministry's Information Department, made his debut as the 31st spokesperson for China's Foreign Ministry at Monday afternoon's Regular Press Conference in Beijing.
During the 40-minute press conference, Zhao answered some 20 questions from domestic and foreign media on issues including the COVID-19 epidemic in China and a racist headline in the Wall Street Journal, reiterating China's stance on cancelling the visas of three journalists working for WSJ since they blatantly insulted China, China Economic Net reported.
Responding to a question concerning Pakistan, the Foreign Ministry spokesman expressed his thanks to Pakistan for their support amid the COVID-19 epidemic and said that he is deeply bound to Pakistan because he had served as a Chinese diplomat there twice.
China will maintain close communication, coordination and cooperation with Pakistan and other countries to defeat the epidemic as soon as possible and safeguard the health of two peoples and global public health security, he added.
"Pakistani students in Wuhan will be treated as our own people. We will do our best to take care of them," he said.
Zhao, a diplomat par excellence, served as the Minister-Counsellor and Charge d'Affaires at the Embassy of the People's Republic of China in Pakistan from 2015 to 2019. He took the current post in August 2019.
Creating a personal account on Twitter in May 2010, Zhao was a prolific social media user during his Pakistan posting. He has more than 240,000 followers on the platform up to now.
Zhao is a staunch supporter of China-Pakistan ties and the China-Pakistan Economic Corridor (CPEC). According to Pakistani Senator Mushahid Hussain Sayed, Zhao has done a great service to China-Pakistan relations.
Senate of Pakistan passed unanimously a resolution expressing full solidarity and support to China in combating the COVID-19 on February 10. Zhao tweeted "Thank you Pakistan! An iron brother indeed!" noting Pakistan Senate is the first Parliament to express such support to China.